This Vegan Cauliflower Curry recipe is a go-to around here because it is so easy! Weeknight cooking can be tough. Sometimes you need something quick and simple, that still packs in those nutrients.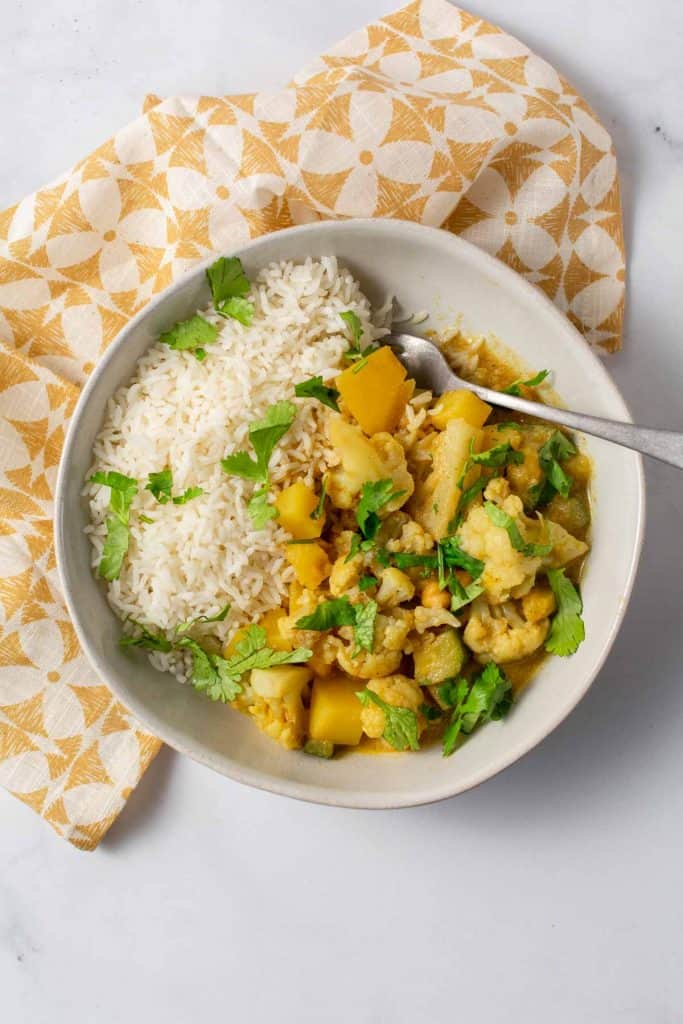 The best thing about this curry besides the taste is how quickly it comes together. It is also extremely customizable depending on what veggies you like or have on hand.
INGREDIENTS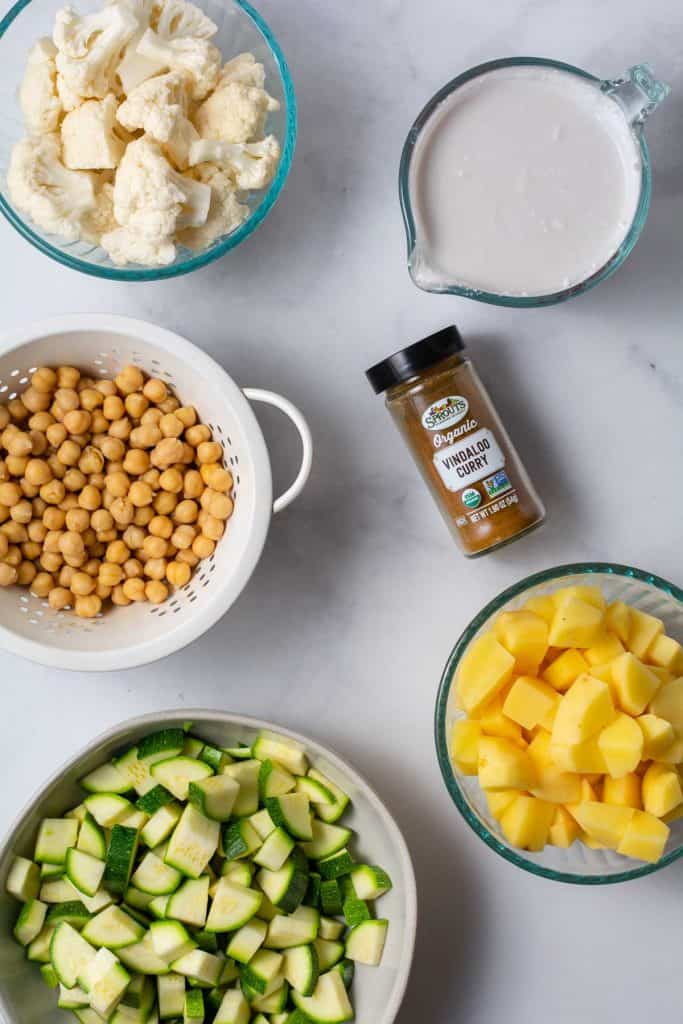 Cauliflower-One way we save on time is getting bagged cauliflower florets from Costco. Even though I cut some of the bigger pieces into bite-size, it still ends up being faster.
Zucchini-I use zucchini because I love the way it soaks up the flavor of the curry. If you don't love it you can leave it out and your dinner will still be delicious!
Potatoes-Potatoes are so good in curry. We don't always use them in this recipe depending on time. So if you have a few extra minutes add them in, and if you don't, leave 'em out!
I started making this recipe without onions and garlic to save time. We liked it and so I have continued to make it this way. However, if you have a few extra minutes and would like to add them in, don't let me stop you!
Spices-I use one blend. Didn't I say this was easy? I picked up a vindaloo blend at Sprouts to try and it's my favorite in this recipe. If you don't have a blend on hand already, you can also put together your own vindaloo blend with this recipe.
HOW TO MAKE VEGAN CAULIFLOWER CURRY
If you plan to serve this with rice, start preparing your rice first.
While your rice is cooking, cut up your veggies.
Sauté the zucchini in a large skillet over medium heat for a few minutes.
Next stir the curry spice in some full-fat coconut milk and pour over zucchini. Let simmer for a few minutes.
Then add your cubed potatoes and vegetable broth and cover. Let the potatoes simmer for 5-8 minutes before adding the cauliflower and chickpeas. The potatoes take longer to cook than the cauliflower so I like to add them in a few minutes before, so they can be done around the same time.
Once the cauliflower is fork-tender, take the pan off the heat.
Finish with a squeeze of lemon or lime juice.
Garnish with parsley and enjoy!
TIPS
Potatoes take longer to cook than cauliflower so make sure you add them in first for a few minutes.
Since the potatoes in this recipe are being cooked in a sauce, you can cut them slightly ahead of time. For more information check out this article.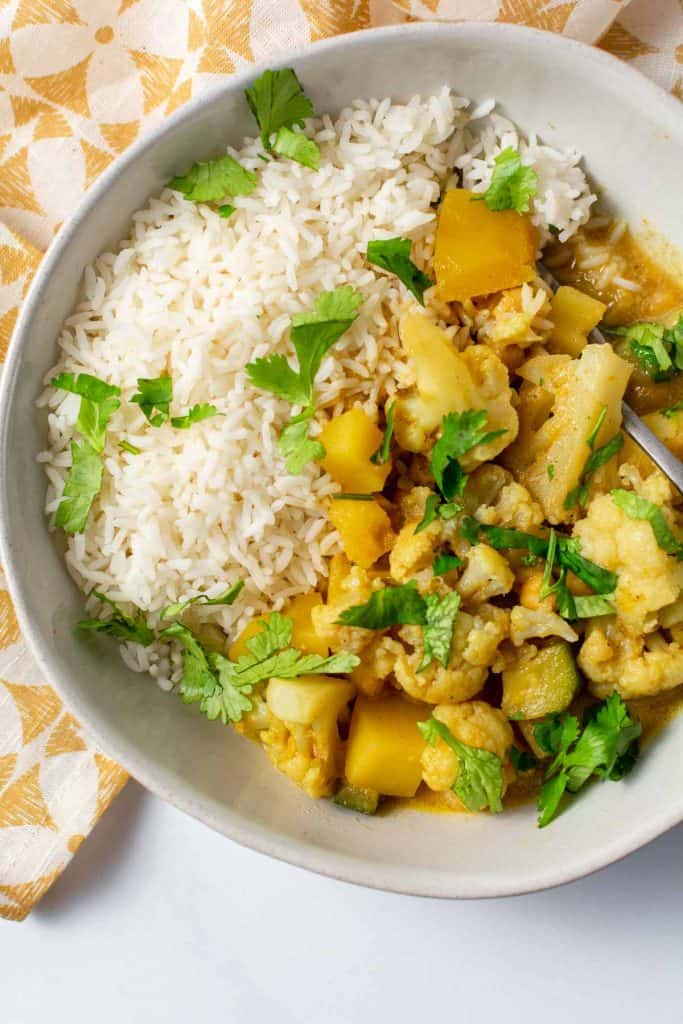 FAQ
What can I serve this with?
This is best served with rice and a side of naan bread. Yum! 

For easy instructions on how to make rice in the instant pot, check out this article. 
How should I store it?
Store your curry in an airtight container in the fridge for 2-3 days or in the freezer for up to 3 months.
How should I reheat the curry?
I like to reheat this in a pan on the stovetop or in the microwave. 
Can I switch out the vegetables?
Yes! Just be mindful that different veggies take different amounts of time to cook. 
What other veggies would be good in this?
You can always add onions and garlic and that would be delicious. You could also add sliced red bell peppers, sweet potatoes, carrots, peas, or tomatoes. Yum!
What can I use instead of coconut milk in curry?
I have heard of people using vegan yogurt, or cashew cream instead of coconut milk. These are good substitutes due to their high-fat content. I have never tried it though so if you do let me know how it goes!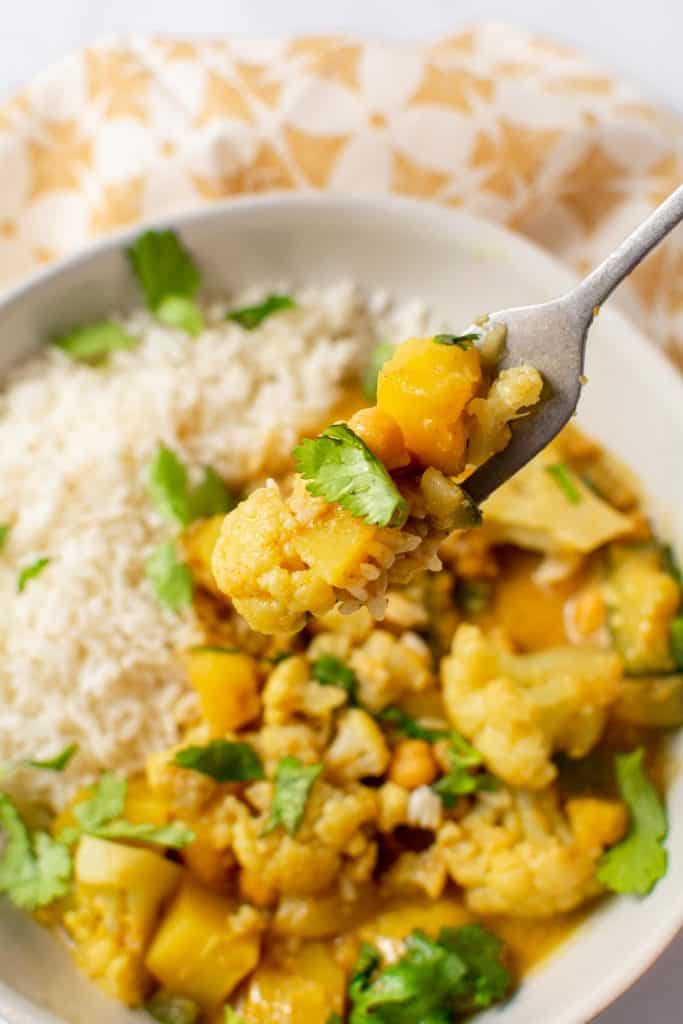 If you like simple meals check out these other recipes on the blog!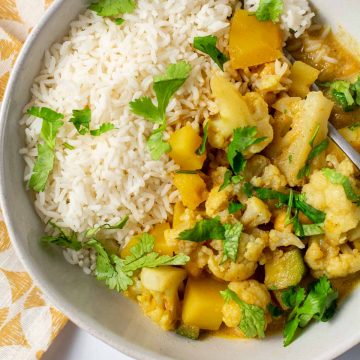 Vegan Cauliflower Curry (without onion and garlic)
A quick and simple curry packed with veggies and perfect for a weeknight meal!
Print
Pin
Rate
Ingredients
2

cups

chopped zucchini

2

tablespoon

vindaloo curry powder

1

can

coconut milk

2

cups

chopped potatoes

½ - 1

cup

vegetable broth or water

2

cups

cauliflower florets

1

can

chickpeas

drained and rinsed

2

tablespoon

parsley

optional for garnish
Instructions
Start cooking rice if serving with curry.

Chop all your vegetables.

Sauce zucchini in large skillet on medium high heat for a few minutes.

Combine vindaloo curry powder with coconut milk.

Pour coconut milk and curry mix into skillet and sauté for a few more minutes.

Add potatoes and vegetable broth to pan and cover.

Cook potatoes for about 5-8 minutes.*

Add cauliflower and chickpeas.

Cook until cauliflower is fork tender.

Garnish with parsley. (optional)
Notes
Start cooking the potatoes a few minutes before adding the cauliflower because they take longer to cook. Do not wait until the potatoes are done before adding cauliflower or they will get mushy. You want them a little less than half way done before adding cauliflower.
Nutrition facts are calculated without rice.
Nutrition
Serving:
1.5
cups
|
Calories:
250.3
kcal
|
Carbohydrates:
32.6
g
|
Protein:
6.6
g
|
Fat:
12
g
|
Saturated Fat:
9.5
g
|
Polyunsaturated Fat:
0.7
g
|
Monounsaturated Fat:
0.7
g
|
Sodium:
99.3
mg
|
Potassium:
691
mg
|
Fiber:
6.3
g
|
Sugar:
6.6
g
|
Vitamin A:
797.3
IU
|
Vitamin C:
34.5
mg
|
Calcium:
45.4
mg
|
Iron:
1.4
mg
Let me know what you think in the comments below. I love hearing from you!