Honestly, I don't think I have tasted many chilis that I didn't like. This is my first chili recipe on the blog and it likely won't be the last. It's one of my favorites. Plus chili is so easy to make vegan!
I love different flavors and the versatility of chili. Also, I will never turn down an excuse to eat cornbread! I picked a chipotle flavor for this vegan chili because that has been our mood lately.
This recipe is so easy. You can make it on the stovetop or in the instant pot. You can make it in your slow cooker too if that is your jam!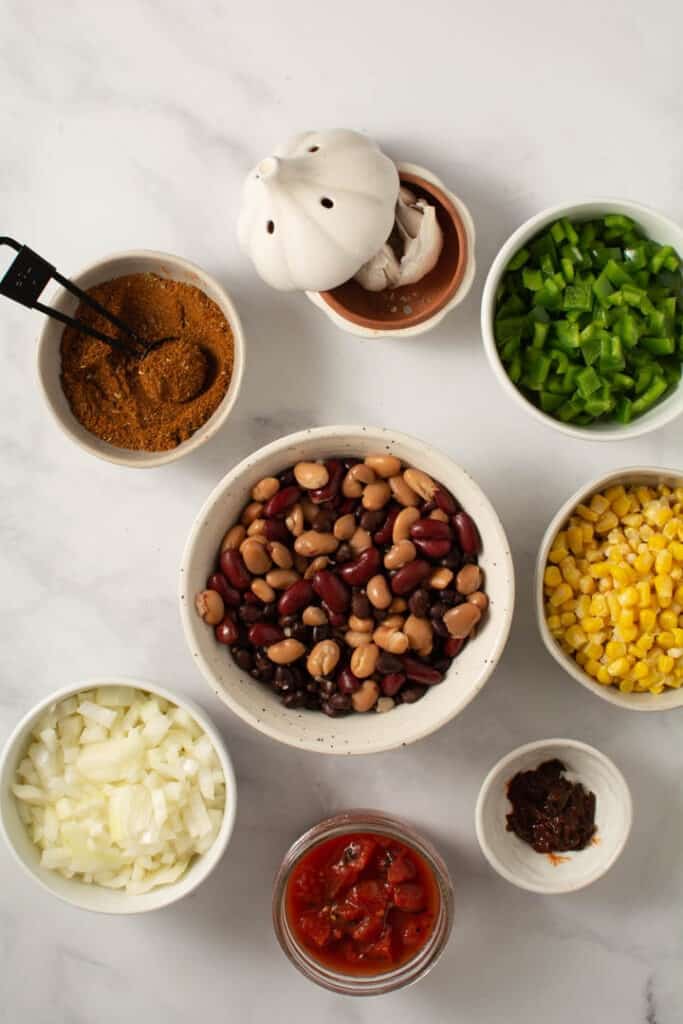 INGREDIENTS
Chipotle peppers in adobo sauce-if you don't love the flavor of chipotle you can omit it and use jalapenos instead. It's delicious. Change it up depending on your mood. Life is cool like that!
PSA: Do not use a whole can of chipotle peppers. The recipe calls for one pepper in the sauce. Not one can. I forgot to specify when I sent my mother-in-law the recipe and she sent back her review wondering why it was so spicy! We got a big kick out of it.
One pepper plus one tablespoon of maple syrup is the perfect ratio. If you want your chili spicier you can add more peppers. Add an extra tablespoon of maple syrup per pepper added.
Bell Pepper– You can technically use whatever kind of bell pepper you want or have and it would be good. But, when it comes to chili, green is the best. Just trust me on this one m'kay?
Cocoa Powder – I don't remember what chili recipe I first came across with cacao powder in it. But it would be a pretty dire situation for me to ever make chili without it again. This is a pretty common practice nowadays though. Am I right? Or am I wrong?
Beans – I usually use a can each of black, kidney, and pinto. It's my favorite combo. But you really can't go wrong with beans. Unless you don't use pinto. Then you can go wrong. Pinto beans should always be in chili. That's all.
Diced Tomatoes – I like the flavor of smoked tomatoes but you can use regular diced tomatoes.
Corn – Sometimes I add it sometimes I don't. It's a mood thing.
Spices – This is where the flavor is at! Don't skimp. especially if you are making vegan chili.
Ok, I realize that I am sounding a bit like a food snob. Confession: I kinda am. But please don't let that scare you! You seriously can not mess this up. Chili is so comforting to eat that it would just be wrong if it was stressful to make. You got this!
METHODS
Instant Pot: Using the saute function on your instant pot, saute the veggies until fragrant. Add the rest of the ingredients, except the corn. Close the lid and turn the vent knob to 'sealing.' Manually set the instant pot to high pressure for 5 minutes. At the end of cooking, do a quick release by turning the knob to 'venting.' Add corn and salt and pepper to taste!
Stovetop: saute the veggies until fragrant. Add the rest of the ingredients (except corn.) Bring to a boil. Turn down to a simmer and let simmer for about 30 minutes. Add the corn and salt and pepper to taste. Enjoy!
Slow cooker: saute the veggies until fragrant. Transfer to a slow cooker with the rest of the ingredients (except corn.) Cover with lid. Cook on low for 5-6 hours. Add corn and salt and pepper to taste. Enjoy!
We have chili frequently in our house because all of us like it. The kids come for the cornbread but happily eat the chili with it.
Let me know what you think about the recipe in the comments below!
xoxo
Chantry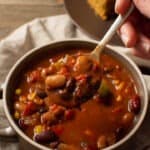 Print Recipe
Easy Vegan Chili
A great weeknight dinner. Delicious hearty chili. Would be a great recipe for meal prep or to freeze for future meals.
Ingredients
1

onion

diced

1

green bell pepper

diced

3-4

cloves

garlic

pressed

1

can

tomato sauce

1

can

fire roasted diced tomatoes

see notes

1

chipotle pepper in adobo sauce (not the whole can)

diced–or sub 1 jalapeno pepper

3

cans

beans

see notes

1

tbsp

cacao powder

1

tbsp

maple syrup or coconut sugar

2

tbsp

chili powder

1

tbsp

cumin powder

1

tsp

smoked paprika

1

tsp

oregano

dried

1/2

tsp

salt

see notes

1

tsp

tamari

or coconut aminos or low sodium soy sauce

1 1/2

cups

vegetable broth or water

salt and pepper

to taste

1

cup

corn

frozen or canned
Instructions
Saute onion, bell pepper, and garlic until fragrant (about 2-3 minutes)

Add tomato sauce, chipotle pepper and spices and saute for another minute.

Add rest of ingredients except for corn.

If using an instant pot, set to high pressure for 5 minutes. When time is up turn the release valve to 'vent' for a quick release.

If you are cooking this on the stove, let simmer for around 30 minutes.

To use a slow cooker, add sauteed veggies and rest of ingredients (except corn) to slow cooker. Cook on low for 5-6 hours.

If adding corn now is the time!

Add salt and pepper to taste.

Enjoy! Preferrably with corn bread 🙂
Notes
If you want it a tad spicier but not a whole pepper worth, add some extra liquid from the can of chipotle peppers. Yum!
I like using black, red kidney, and pinto beans. You can use separate cans or use the kind that come with all three. Or you can use different beans altogether. 
You can use soy sauce instead of coconut aminos but it is saltier. Adjust the amount of extra salt you add and you'll be good to go!
Topping options: 
avocado
vegan cheese
vegan yogurt or sour cream