There are so many different recipes online for how to cook white rice in the instant pot.
I can't say that I tried them all. But I think I did my due diligence.
If you are dying to hear about my experience read on. If you just want to know a fail-proof way to cook white rice in the instant pot, feel free to jump to the recipe card.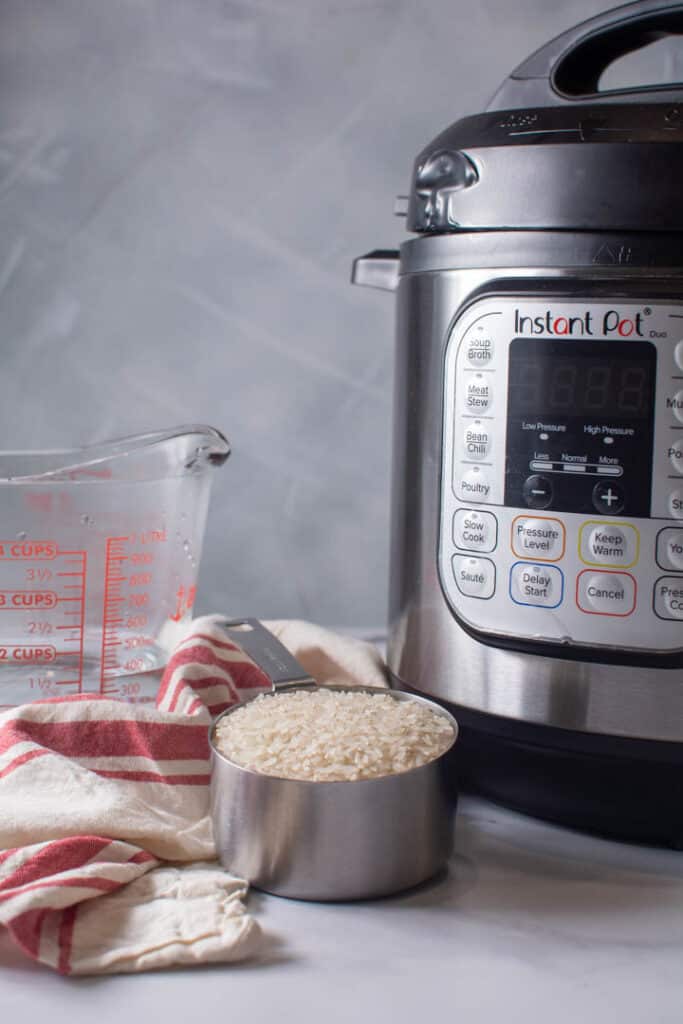 My first electric pressure cooker was made by Cuisinart. I loved that thing. And yes, it cooked white rice beautifully.
It came with amazing instructions on how to cook pretty much everything in it.
When I got my Instant Pot I was disappointed at the lack of instructions that came with it. There was a sheet with pictures of perfectly cooked food with cooking times listed under each photo. I hung it on my fridge, planning on referencing it often. I put it away a long time ago because I ended up looking everything up online anyway.
One of the differences between the Cuisinart and the Instant Pot is that the Instant Pot has a rice button. So fancy. Upon further investigation, that button only works with white rice. Also, it is a long process. I tried it with the one to one ratio multiple times and I didn't get consistent results. I know...some people swear by it.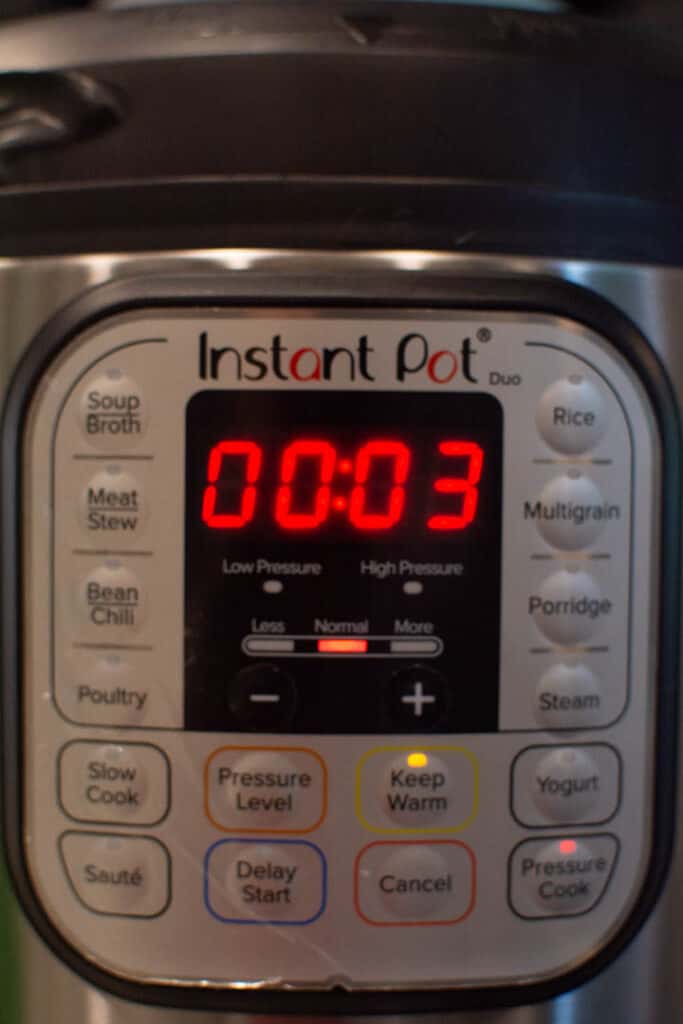 Another thing that people swear by? The one to one ratio of rice to water. I don't know how many times I tried this method. Apparently it is NOT fool-proof, and I am a fool. Who knew?
I tested out different cooking times per different recommendations. No luck.
Eventually, I gave up and decided that adding a little bit of extra water wasn't going to break the bank. I mean really. I can sacrifice a half cup of water knowing that my rice is going to cook beautifully. I'm not trying to impress anyone with my water frugality anyway.
I also decided to try using the same cooking method that I used with my Cuisinart before. Perfect results every time. EVERY TIME! So I have to credit this recipe to Cuisinart.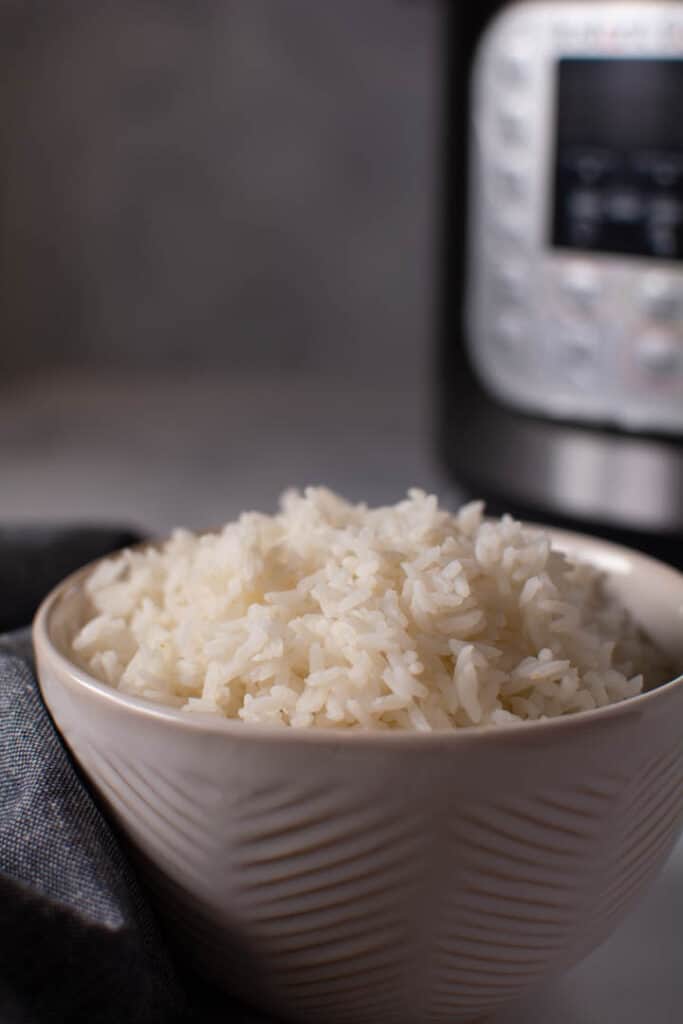 A huge plus….this method is faster than the others. I should have said that from the beginning. Because really, it's the biggest selling point.
How to cook white rice in the Instant Pot
I don't bother adding any oil or salt. Feel free to if that is your jam. It is a little sticky without the oil but I tend to like it that way.
The method is easy. Rinse your rice. Pour rice in the Instant Pot. Add one and a half times water. Turn knob to seal position. Set to high pressure for 3 minutes. Let the pressure naturally release for 8 to 10 minutes. Enjoy!
I am at an elevation of about 900. If you are at a higher elevation and 3 minutes isn't enough, set the pressure to cook for 4 minutes.
I use this method for all types of white rice. Short, regular, and basmati. It works the same.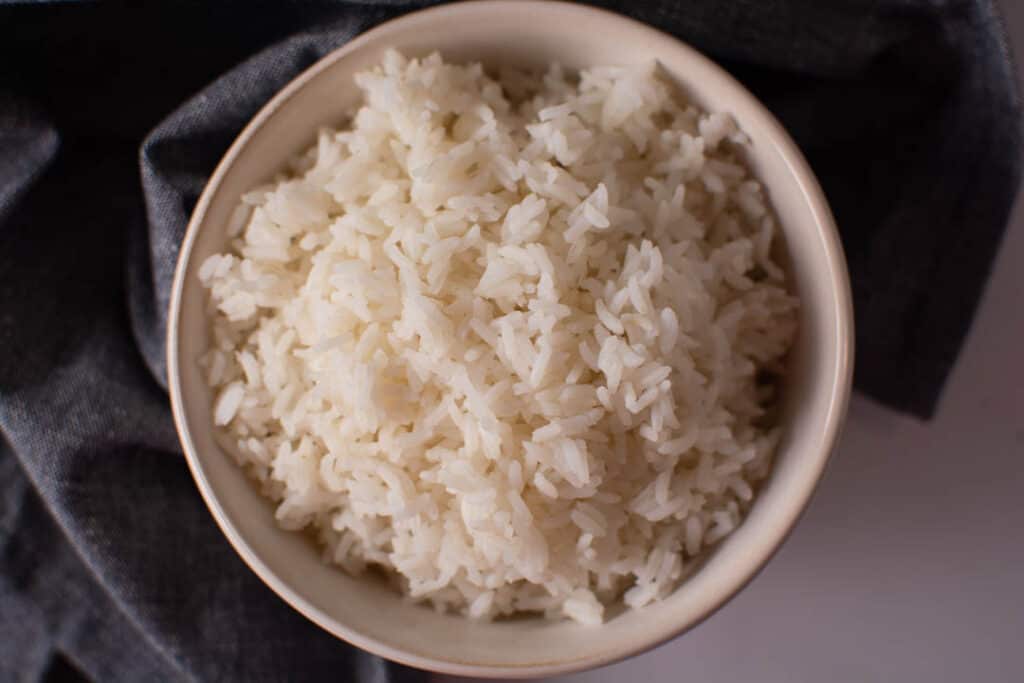 Have leftover white rice? Try my vegan caramel rice pudding recipe. It's my husband's favorite!
What else would you like me to try in the Instant Pot? Share your requests below, or let me know what your favorite thing to make with the instant pot is.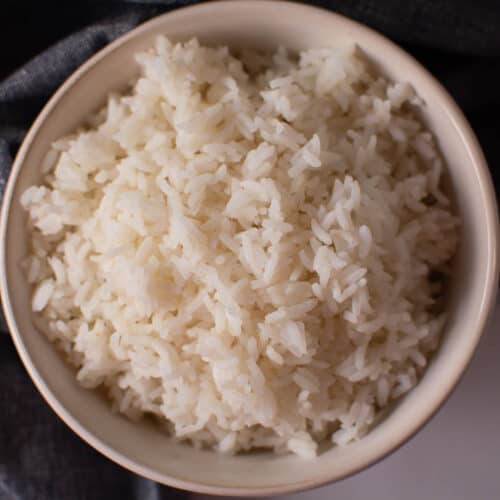 Instant Pot White Rice
Perfect white rice made in the Instant Pot for fast, easy, and delicious results.
Print
Pin
Rate
Ingredients
1

cup

dry white rice

any variety

1 ½

cups

water
Instructions
Rinse rice until water runs clear.

Add rice and water to the instant pot.

Put on the lid and place the knob in the 'seal' position.

Set the instant pot to manual, high pressure, for 3 minutes.

Once the 3 minutes is up let the instant pot naturally release its pressure for 10 minutes.

Manually release the rest of the pressure.
Notes
If you are at a higher altitude and aren't getting the best results, set the time to 4 minutes instead of 3.