This is for all my granola lovers out there! And everyone else. Because homemade granola is a whole different ball game than store-bought! Trust me on this one.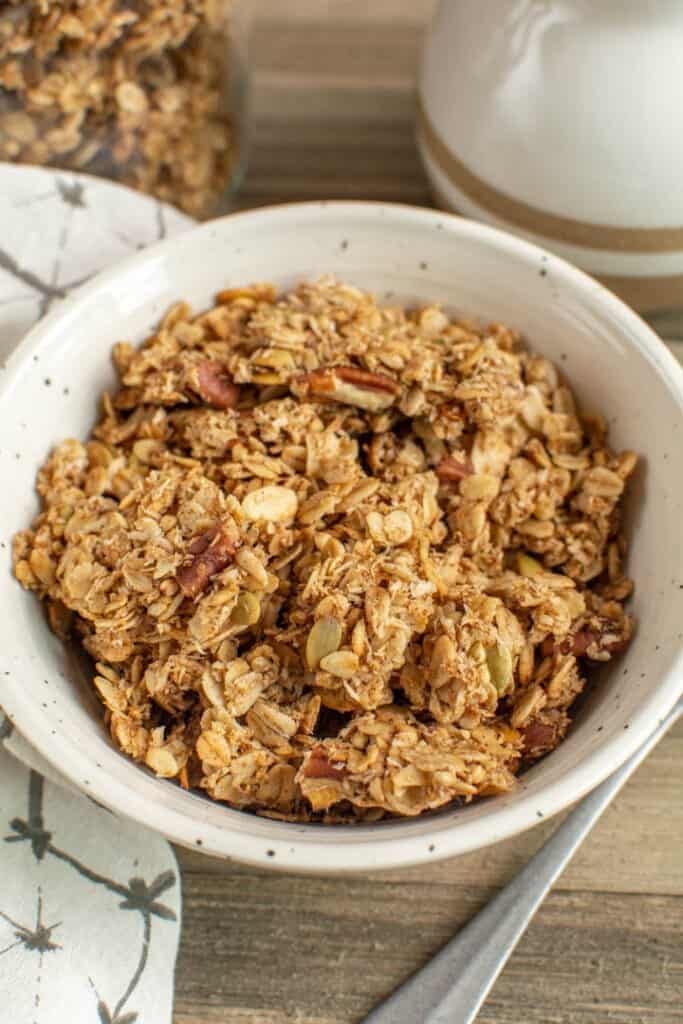 Reasons to love granola other than its delicious factor:
It lasts forever.
You can eat it with so many different things.
You can change the flavors every time you make it.
You can easily take it on the go.
It is simple to make.
It is packed with nutrition.
I mentioned that this recipe for homemade granola is simple but I am going to give you a rundown so that it is foolproof! If you have any questions be sure to leave me a comment below!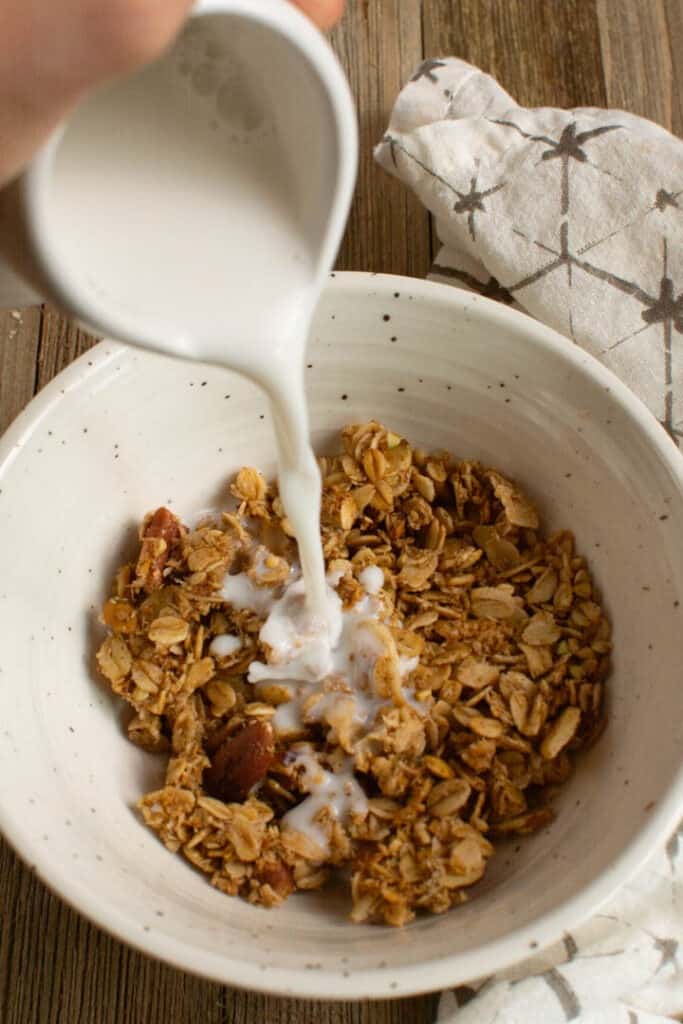 INGREDIENTS
OATS:
Old fashioned rolled oats are the best for this recipe. I have never made granola with steel-cut or oat groats so I don't know the tricks. But I have seen recipes that use steel-cut oats with similar ratios and cooking instructions. So I know it is possible. If you have used steel-cut before let me know about it in the comments below!
SHREDDED COCONUT:
You can leave this out if you are not a fan of coconut. But the way it works with the sugar to coat the other dry ingredients is magic. It toasts up along with the oats and nuts and marries them to the maple syrup. If granola was a symphony, shredded coconut would be its conductor!
NUTS AND SEEDS:
In this particular recipe, I used almonds, pecans, sunflower seeds, and buckwheat. But you can use whatever nuts and seeds you like. Seeds are cheaper than nuts if you want to save a little money. You can also leave the nuts and seeds out entirely and increase the amount of oats you use.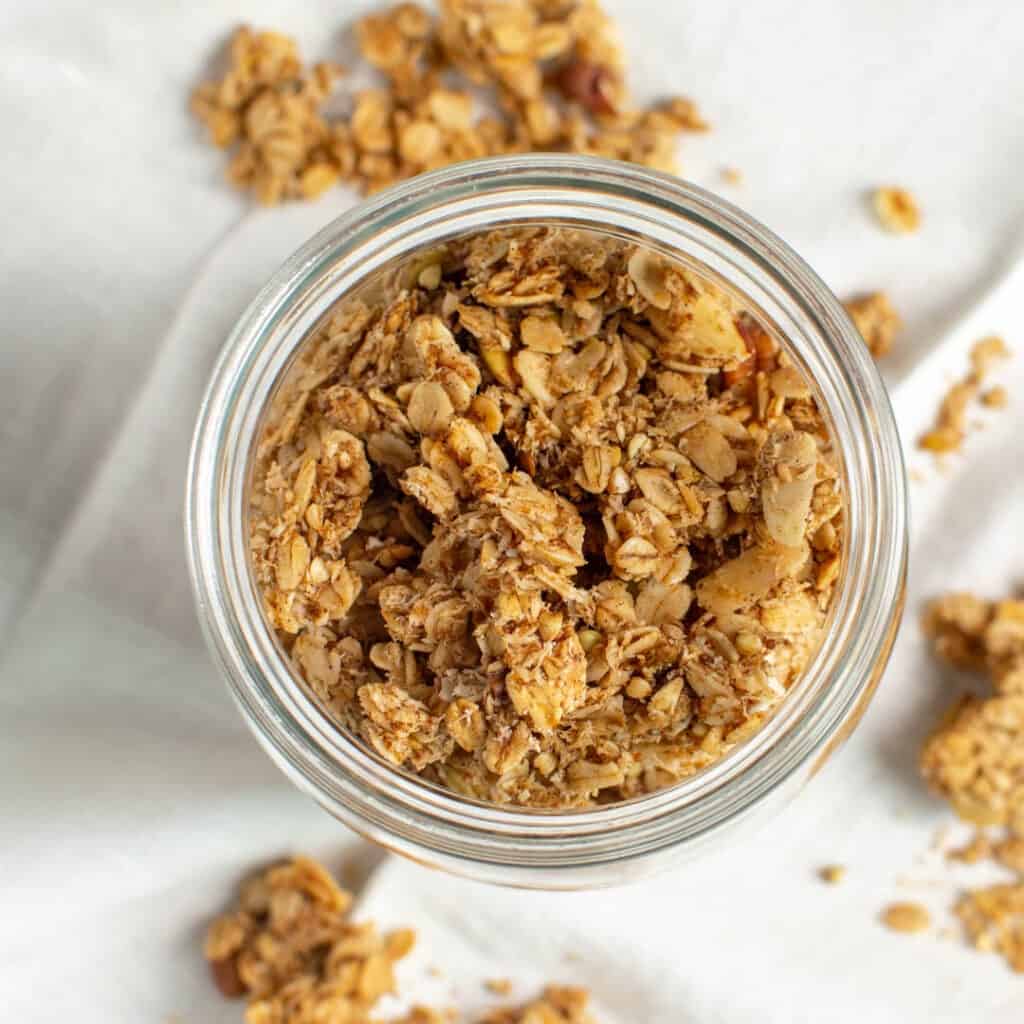 SWEETENER:
This serves two roles. It serves as the sweetener (obviously) and also as the binder in your granola. I love the flavor of maple syrup and coconut sugar combined. You can use other liquid sweeteners such as agave or honey. You can also swap out the coconut sugar for regular or brown sugar.
SPICES:
I kept things simple with cinnamon and salt. You can also add in nutmeg, cardamom, pumpkin spice, or whatever you like! I wouldn't sub the salt though. It brings all the flavors together!
And not exactly a spice, but fresh orange zest in granola is one of the best things. Ever.
VANILLA:
Because is it even allowed to bake something without it? We don't want to get struck by lightning here!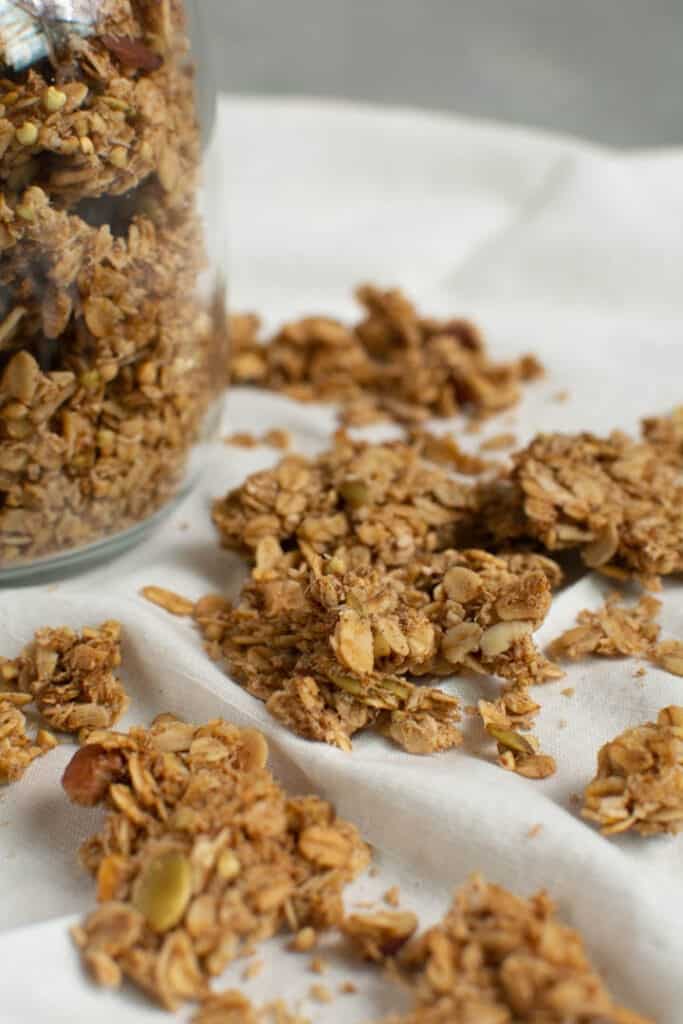 OIL/APPLESAUCE:
Ok. There was some major sleuthing with this one on my end! Before this recipe, I never made granola without oil. I figured it was vital! Guess what? It isn't.
So, for our friends who don't consume oil, all the way to our friends who like to have it in their diet, this is for you!
I made three separate batches of granola on the same day. One with all oil, one with half oil and half applesauce, and one with all applesauce. (Don't worry, between my daughter and my husband it was gone in three days!)
I thought that the batch with just oil would have a better crunch and texture than the other two. I thought the one with just applesauce would be less clumpy with a softer texture. But, my friends, the difference was minimal. if I had not made them on the same day I really wouldn't have noticed!
My biggest tip if you are using applesauce is to make sure you mix the applesauce really well with the maple syrup before adding it to the granola. It takes quite a bit more work to coat the oats with the applesauce mixture.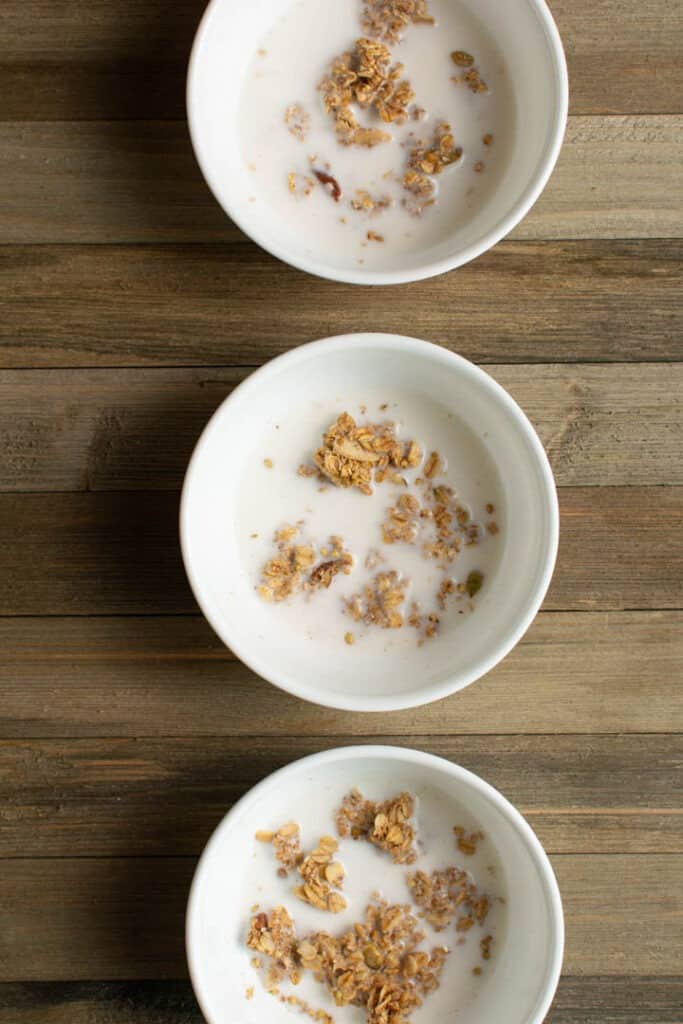 All three batches created beautiful clumps! And according to my husband, the biggest difference he noticed was the flavor. He preferred the applesauce batch!
My oldest liked the applesauce batch best, my second liked the half and half batch best, and my youngest went back and forth between them all. My favorite was the all oil batch but it was neck and neck with the other two!
HOW TO MAKE
Preheat your oven to 300 degrees Fahrenheit.
Prepare a large rimmed baking sheet with a Silpat or parchment paper.
In a large mixing bowl, combine the oats, almonds, pecans, sunflower seeds, buckwheat, shredded coconut, coconut sugar, cinnamon, and salt.
In a separate bowl, combine the oil (or applesauce), maple syrup, and vanilla.
Pour the wet ingredients over the dry ingredients and mix thoroughly. Make sure all the oats are coated.
Pour granola onto the baking sheet. Spread evenly and press the granola down into the sheet using a rubber spatula.
BAKING INSTRUCTIONS
300 degrees Fahrenheit is a great temperature for cooking granola because it is low enough that you don't have to worry about burning any of it before it is done cooking.
Place your baking sheet in the middle of your oven.
Don't disturb the granola until it is done. If you stir it you risk not having clumps!
If using all oil, bake for 40-50 minutes.
If using half oil and half applesauce, bake for 60-70 minutes.
If using all applesauce, bake for 70-90 minutes.
Let cool completely before storing
SERVING SUGGESTIONS
Serve it as a cereal with your favorite milk.
Top your yogurt with granola and berries.
Use as a topping on smoothie bowls.
Eat it plain as a snack.
HOW TO STORE
Let your granola completely cool down before putting it into an airtight container. Any extra water will evaporate as the temperature in the granola changes from hot to room temperature. Store in a cool dry place for several months!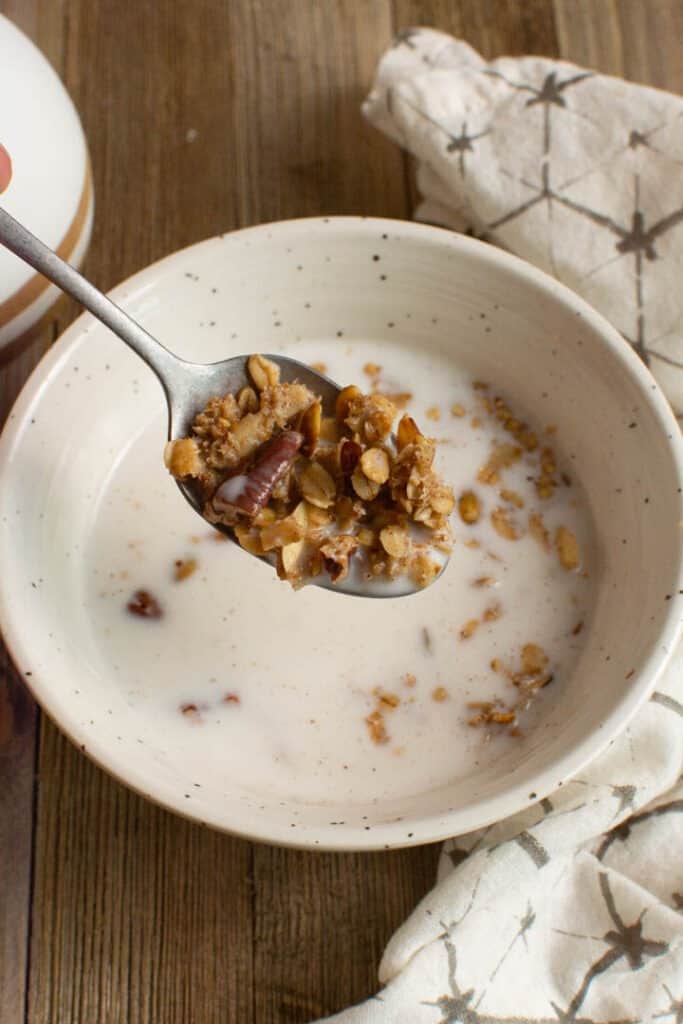 FREQUENTLY ASKED QUESTIONS:
HOW DO I KNOW WHEN MY GRANOLA IS DONE BAKING?
My favorite tip for knowing when your granola is done is when your house starts to smell like cookies!
The nice thing about granola is, you can always put it back in the oven. Even after it is done cooling! So if you pull it out and let it cool and realize you want it more done, put it back in the oven!
HOW TO MAKE GRANOLA CRUNCHY WITH CLUSTERS
Don't stir your granola while it is baking or cooling. This will prevent it from forming clusters. Once it is done cooling, break off a small piece to make sure it is cooked how you like it. If it is, you can break it up into clusters. If it isn't, put it back in the oven for a few minutes and let it cool down again before breaking it up.
Why is my granola not crunchy?
This can happen if your mixture is too wet before baking. But more than likely baking your granola for a longer amount of time will solve this problem.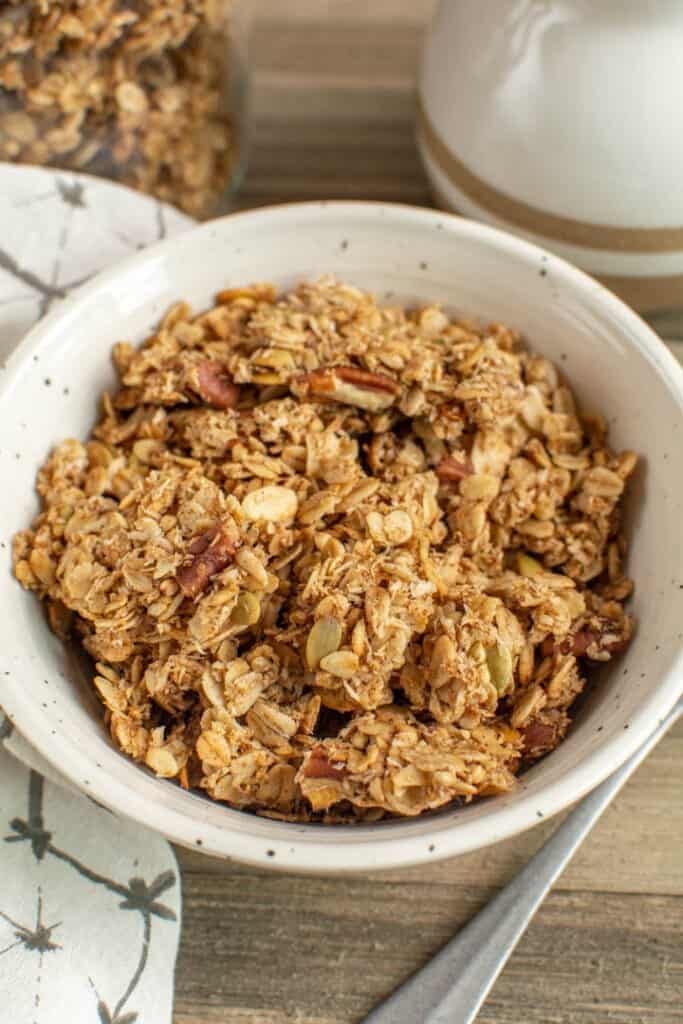 Is homemade granola cheaper?
Homemade granola can be cheaper than store-bought depending on what ingredients you use and how often you make it. Nuts aren't exactly cheap. However, if you buy them and make granola often, then in the long run it will turn out cheaper.
Also, if you decide to make granola without a lot of nuts you can save money that way. Seeds tend to be less expensive than nuts. So if you want to save money sunflower seeds and pumpkin seeds are great options that are packed with nutrition. Many people make granola with only oats. If you choose to go this route you will need to keep your liquid to dry ingredient ratio about the same.
Does it need to be refrigerated?
Granola does not need to be refrigerated. In fact, it can be worse to keep it in the fridge instead of the counter. This is because the moisture in the fridge can make your granola soften.
How long does it last?
Keep your oatmeal in an airtight container and I have heard it can last anywhere from 1 to 6 months! Granola has never lasted that long in my house. About 4 days is the longest I think it has taken us to get through a double batch of granola! The amount of time it will last can vary slightly depending on the ingredients you use. A good rule of thumb is to base the expiration date on the ingredient with the shortest shelf life! Some common ingredients that can shorten the shelf life of granola are fruit, nuts, and chocolate. The humidity and temperature in your home can also affect how long it lasts. If I am going to keep granola for a long time I generally put it in the freezer. This leads to the next frequently asked question...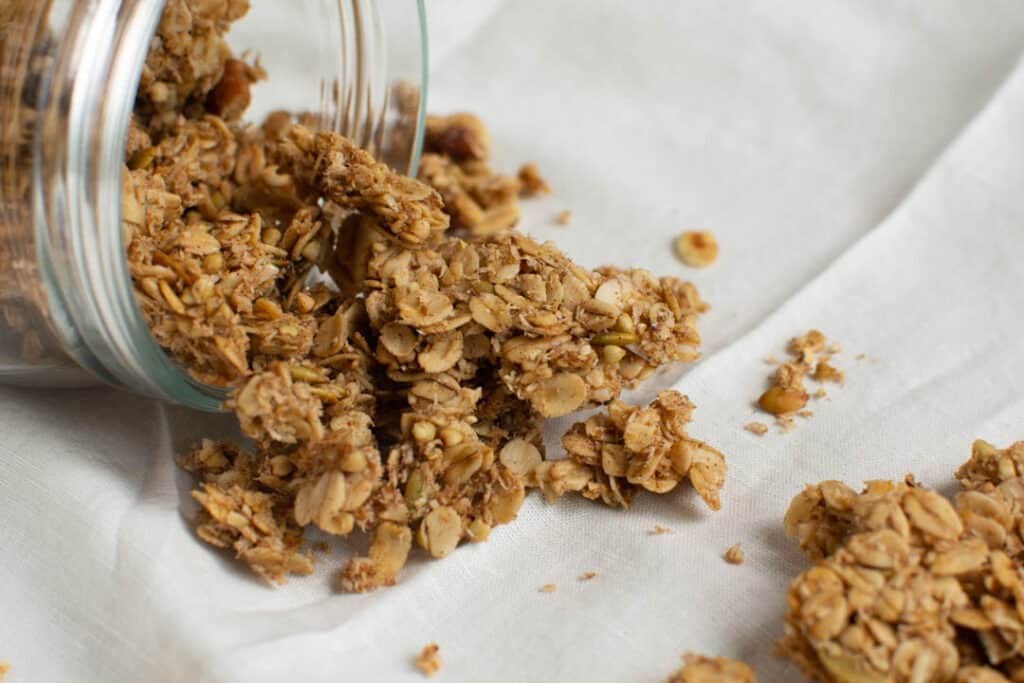 Can you freeze it?
Drumroll please……...yes you can!
It is best practice to spread it out on a tray and freeze it for a couple of hours before putting it in a bag. If you don't have the time or space for this, make sure the granola has cooled down completely before putting it in a Ziploc bag. Get as much air out as possible. Then find a place in the freezer where it won't get smooshed! It should last in the freezer for up to 9 months.
Is it gluten-free?
The answer to this question is often confusing. Here's why: There is a protein in oats called avenin, which is similar to gluten. For the majority of people who are sensitive to gluten, including celiac patients, avenin doesn't appear to be problematic. Also of note: the high fiber content in oats did cause some discomfort in several celiac patients who were not used to having fiber in their diet.
Another thing to consider is that many oats are processed in facilities that also work with wheat and there can be cross-contamination. Oats that are labeled 'gluten-free' are oats that are not cross-contaminated with wheat. If you are sensitive or allergic to gluten, make sure to look for the 'gluten-free' label when shopping for oats.
For more information on this topic check out this article and this study.
Do you have to make granola with oil?
No you don't! You can use applesauce as demonstrated in the article. I hear you can also just use liquid sweetener and leave out the oil and applesauce. But I haven't tried it yet!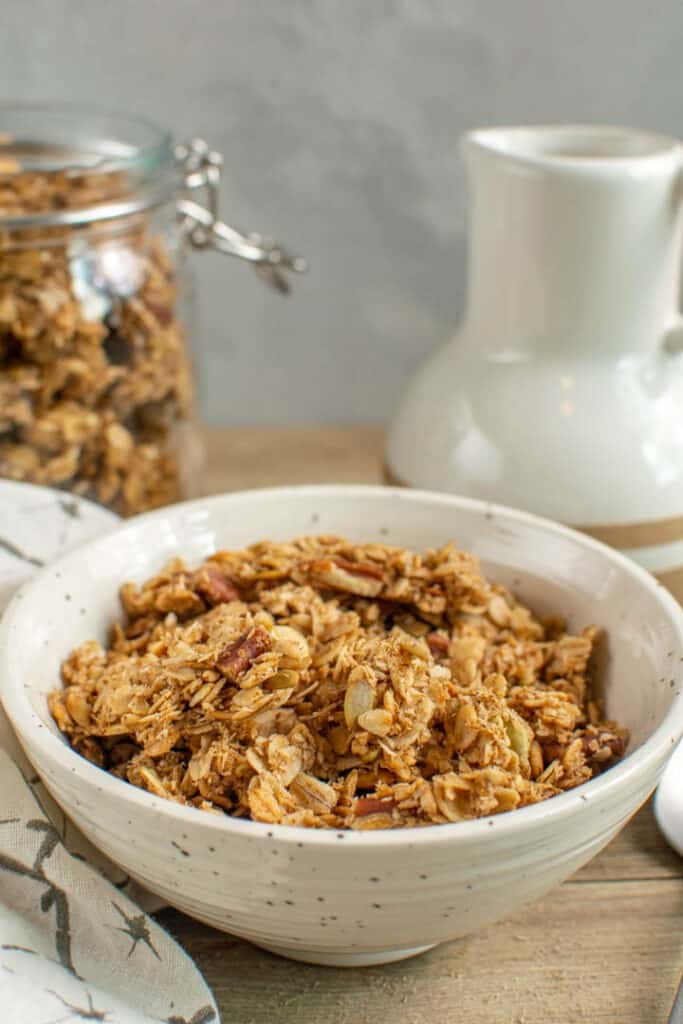 Please let me know how this recipe turns out in the comments! I love hearing from you!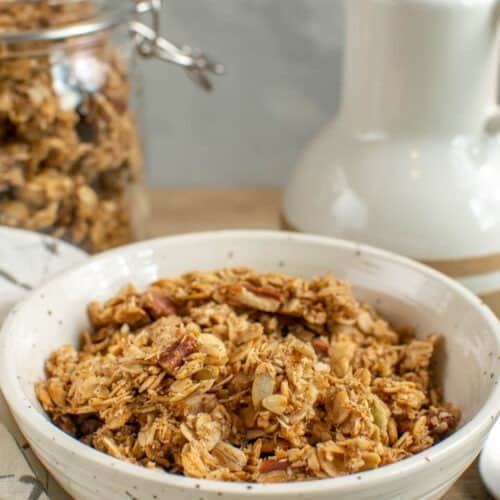 Equipment
Sheet pan

Mixing bowl

Measuring equipment
Ingredients
3

cups

old fashioned rolled oats

¼

cup

slivered almonds

¼

cup

pecans

roughly chopped

½

cup

buckwheat

1

cup

shredded coconut

unsweetened

¼

cup

coconut sugar

1

tablespoon

cinnamon

1

teaspoon

salt

½

cup

oil or applesauce

see notes

½

cup

maple syrup

1

tablespoon

vanilla
Instructions
Preheat oven to 300 degrees

Line a sheetpan with a silpat or parchment paper

Combine all the dry ingredients in a large mixing bowl

Combine wet ingredients in a smaller bowl

Pour wet ingredients into dry ingredients and mix well

Evenly spread granola on sheetpan, use two sheetpans if it is too thick

Press the granola into the pan
BAKING INSTRUCTIONS
If using all oil bake for 40-50 minutes

If using half oil and half applesauce bake for 60-70 minutes

If using all applesauce bake for 70-90 minutes
Notes
-I used melted coconut oil but any type will work
-The granola will clump better if you do not stir it
-You will know it is done when your house smells like cookies! 
-If, after letting it cool down, you don't think it was cooked long enough, you can pop it right back in the oven and cook it a bit longer
Check out these other delicious breakfast ideas!