With just a few ingredients, you can have this cozy meal any time of the day! Roasted sweet potato hash makes a great healthy breakfast, lunch, or dinner. The creamy roasted garlic pairs well with onion and rosemary. Combine the hash with arugula and a lovely tahini dressing for a delightful meal!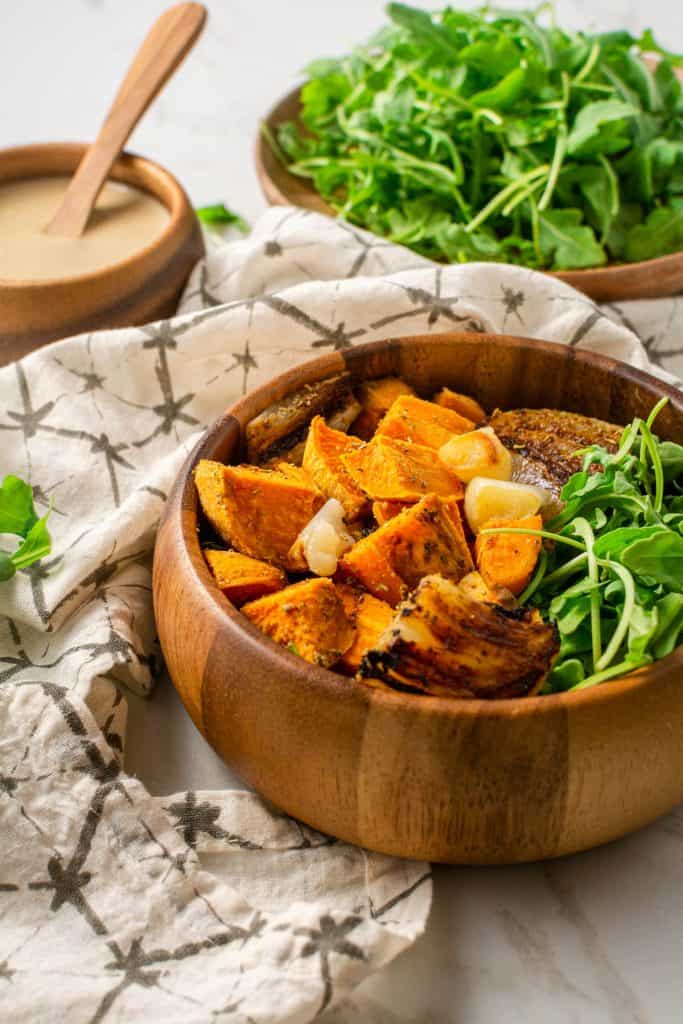 Roasted sweet potatoes are a staple in our house. My daughter will snack on them all day long if they are around. I love roasting them with onion and garlic for an easy breakfast. This is not your classic hash but it is one of my favorite sweet potato recipes.
For other easy breakfast recipes check out these breakfast toast options, or this delicious strawberry mango smoothie bowl!
INGREDIENTS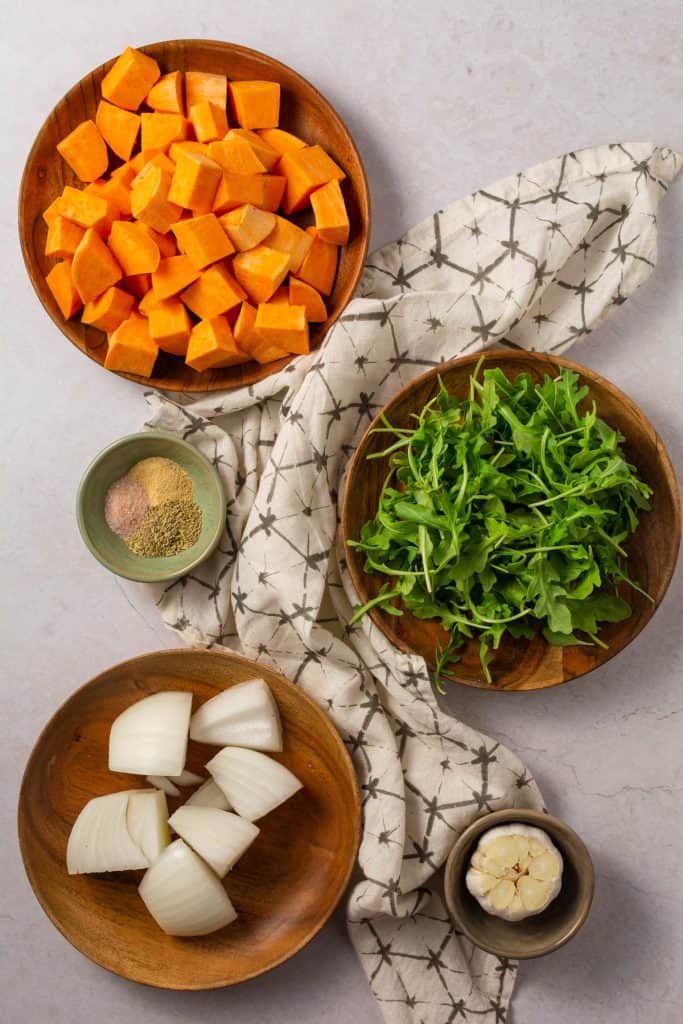 Sweet potatoes - I peel and cube one large or two small sweet potatoes for this recipe. You can leave the peel on if you like it. The measurements are rough and you can easily scale up or down depending on how many people you want to serve. Or if you're just, you know, super hungry.
Onion - you can use a red onion or a yellow onion. The recipe calls for one small onion. You could also use half of a larger onion. Or however much you want to eat. I love onions more than most people so don't feel like you have to use as much as I do. You can even leave it out if you want and I will try not to judge.
Garlic - The little nuggets of roasted garlic add the perfect creamy texture to complement the slight crunch from the roasted onion. Roasting garlic is so easy. Just cut the top off of the head of garlic and put it on the sheet pan with your other veggies. You can wrap it with foil or parchment paper to keep it from drying out. I'm lazy and often skip this step and it still turns out ok.
Rosemary - If you would like to use fresh rosemary instead of dried just remember to use a little more than the recipe calls for.
Garlic Powder - I know we are roasting garlic but I also like the added flavor of the garlic powder on the veggies. And if you think we are getting a little garlic heavy, don't worry, it is also in the dressing. Of course, you can use less if garlic is not your jam. But I can't promise I won't judge.
Tahini - This is the base of the dressing and pairs well with the sweet potatoes. If you don't have tahini, you could use hummus or nut butter. A cashew base would also work well.
See the recipe card for a full list of ingredients and measurements.
INSTRUCTIONS
The hardest part of making this recipe is waiting for the veggies to roast! If you would like to speed it up you can use an air-fryer.
Before preparing your veggies, preheat your oven to 425° and line a baking sheet with parchment paper.
Cut your veggies into one inch cubes and spread them out in a single layer on your baking sheet. You can also use a cast iron skillet or casserole dish. I like to peel my potatoes first but if you like potato skins leave them on.
You can drizzle or spray oil on top, or leave it off for an oil-free option. I like to use olive oil or avocado oil. If you choose not to use oil, then you will need to wrap your garlic in parchment paper to keep it from drying out.
If you want some extra protein you can add chickpeas or white beans to the pan before you roast your veggies. Or you can top your hash with seeds. Pumpkin seeds or hemp seeds would be delicious (add them during the last few minutes of cooking or at the end). Yum!
If you have other veggies lying around you can roast them as well. The best way is to make sure that everything is cut to roughly the same size. This helps everything to cook evenly. Other vegetables that would be delicious in this are cauliflower, red pepper, brussels sprouts, or asparagus. Really anything goes.
Sprinkle the spices over your veggies and put the baking sheet in the oven. Roast your veggies for 30 to 35 minutes. Check your veggies periodically to make sure they don't burn. If they are not done after 35 minutes just leave them in for a few additional minutes.
While your veggies are roasting make the dressing. It is super easy. Mix everything together except for the water. Then add the water slowly until the dressing becomes your favorite consistency. The dressing may start to get super thick at first but it will eventually even back out into a creamy dream!
When the veggies are done cooking, assemble with arugula or some massaged kale and top with the dressing. You can also add a little hot sauce on top if that is your jam. Then dig in and enjoy!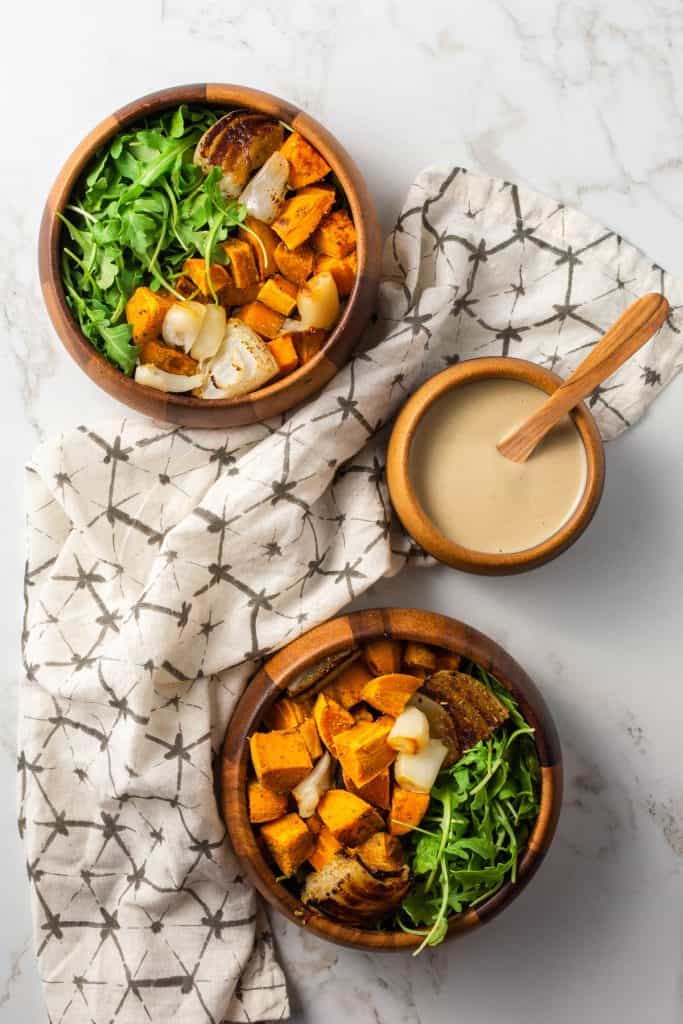 FAQ
Can I make this in an air fryer?

Yes, you can. Prepare your veggies the same way and cook them in the air fryer at 400° F for about 25 minutes, or until they are nice and crispy. 
Can I make this ahead of time?

You can roast the veggies and reheat them. Or you can cut all your veggies ahead of time and roast them the next day or when you are ready to eat them. 
How do you store sweet potato hash?

Store your dressing and your roasted veggies separately in an airtight container. They will last about 3-4 days in the fridge. You can reheat them in the microwave but I like to reheat them in the toaster oven, air-fryer or oven so that the veggies can crisp back up. 
Can I use white potatoes?

Yes! You can sub any type of potato in this recipe.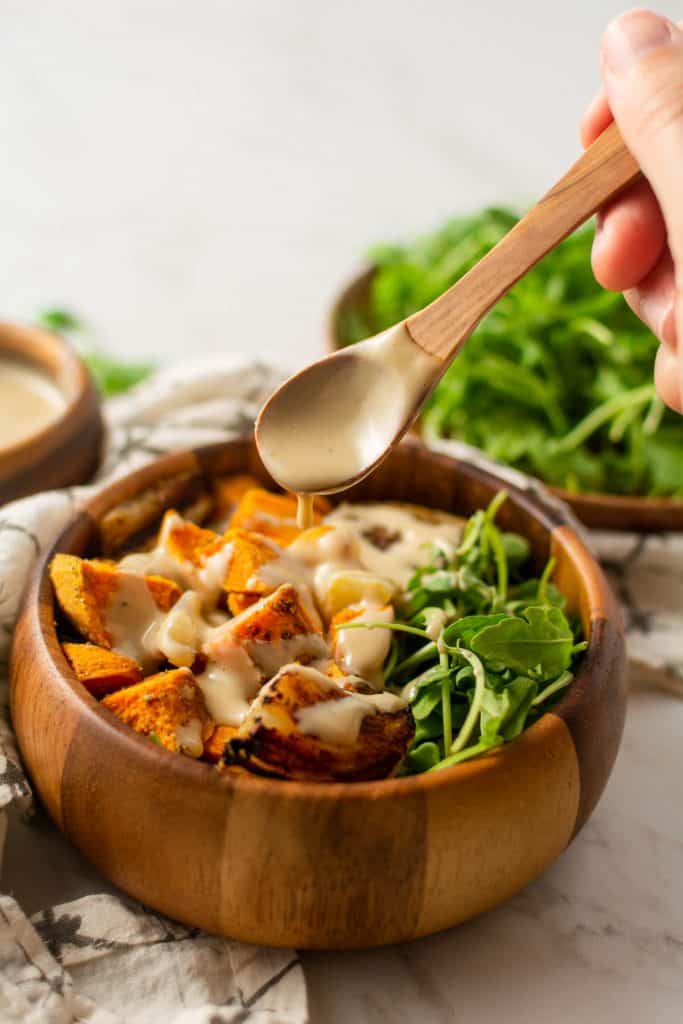 This hearty sweet potato hash is a great recipe for any time of day. I hope you enjoy it as much as we do!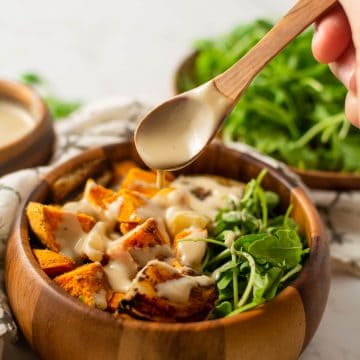 Roasted Sweet Potato Hash
Sweet potatoes roasted with sweet onion, and garlic. It is served over a bed of arugula and a sweet, creamy tahini dressing. Yum!
Print
Pin
Rate
Ingredients
Hash Ingredients
1

large

sweet potato

or 2 small sweet potatoes

1

small

onion

1

head

garlic

olive oil

optional

1

teaspoon

dried rosemary

½

teaspoon

onion powder

½

teaspoon

garlic powder

salt and pepper

to taste
Dressing Ingredients
2

tablespoons

tahini

1

teaspoon

maple syrup

1

teaspoon

fresh lemon juice

¼

teaspoon

garlic powder

water

to taste

salt and pepper

to taste
Instructions
Preheat oven to 425° F or 218° C

Peel and cube sweet potatoes.

Peel and cut onion into wedges.

Slice top off the head of garlic.

Arrange veggies onto baking tray.

Spray veggies with olive oil if using.

Sprinkle seasonings over veggies.

Roast veggies for 30-35 minutes until crispy.

While veggies are roasting mix all dressing ingredients together except for water.

Stir a little water into the dressing at a time until it reaches your desired consistency.

When veggies are done serve over arugula and drizzle tahini dressing on top. Enjoy!
Notes
For more protein you can add chickpeas or white beans with your veggies before you roast them.
Check post for instructions on cooking in an air-fryer.
Nutrition
Calories:
246
kcal
|
Carbohydrates:
31.8
g
|
Protein:
6
g
|
Fat:
12.6
g
|
Saturated Fat:
1.5
g
|
Polyunsaturated Fat:
4
g
|
Monounsaturated Fat:
4.7
g
|
Sodium:
414
mg
|
Potassium:
643
mg
|
Fiber:
5.4
g
|
Sugar:
10.4
g
|
Vitamin A:
856
IU
|
Vitamin C:
27
mg
|
Calcium:
153.7
mg
|
Iron:
3
mg