Light, fluffy, and easy to make! Your maple syrup is calling their name.
I tried dozens of recipes before landing on this one, and my kids love them. I wanted something vegan and oil-free but still delicious.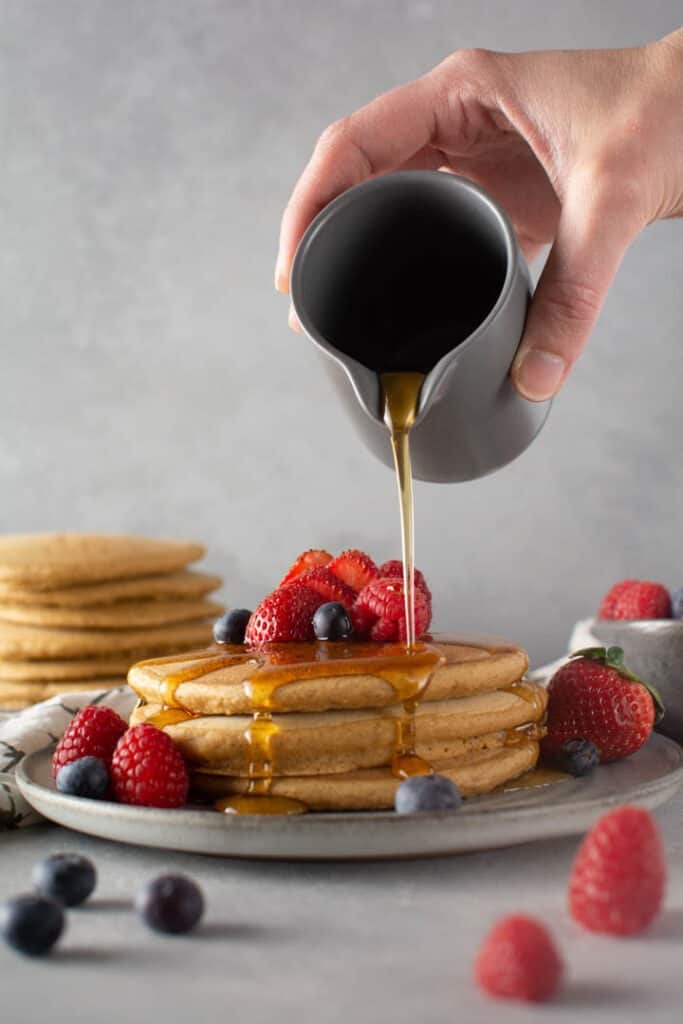 We go through a ton of pancakes so I usually double or triple the recipe. If we don't end up eating them all I stick them in the fridge or freezer. Then when we are ready to eat them a little time in the toaster warms them up perfectly!
Because we usually make quite a few, I like to use my griddle. But a nonstick pan will work also!
INGREDIENTS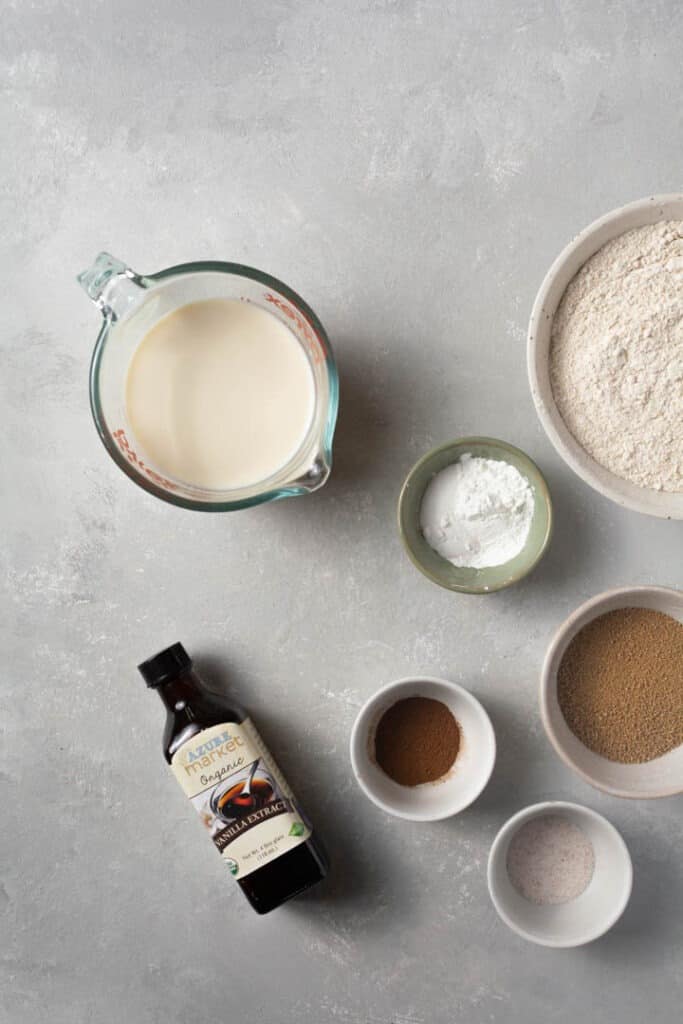 Flour: I like to use a mix of whole wheat and white flour. I typically measure a cup of whole wheat flour and ½ to ¾ white flour. For non-yeasted recipes, I love using soft white wheat which is perfect for these. But feel free to use whatever you have on hand. The ratio of flour to liquid is one of the most variable things in pancake recipes. Different flours soak up different amounts of liquids. My best tip is to add all the ingredients according to the recipe. Let your batter sit for a minute before judging the consistency. If the batter seems too thick add a little more liquid and if it seems too thin, add more flour. You got this!
Sweetener: Sucanat is my go-to for pancakes but you can use whatever sweetener you prefer!
Baking powder and baking soda: You can make pancakes with just baking powder, but I like the browning effect that occurs when I add a little baking soda as well. There is no oil in this recipe which would normally help things brown up. The baking soda and water in the recipe help with the browning.
Milk and Water: you can use whatever plant-based milk you like or have on hand. I love using soy milk but I know it's not everyone's jam.
Salt: salt is where it is at! I don't think omitting it would be a good idea but if anyone tries it let me know!
Apple Cider Vinegar: I used this because most people have it. Any vinegar will do. My personal favorite is coconut vinegar. I love the flavor it gives to baked goods.
Vanilla: If you are out of vanilla your pancakes won't suffer. But dang it is good!
Extras: I always add cinnamon to my batter! And if I have oranges laying around the zest finds its way in the batter as well. If you want to add chocolate chips or blueberries, the best way is to add them on top of the pancakes after you pour them onto the griddle, before you flip them. You can add chocolate chips or blueberries right into the batter
METHOD
Mix dry ingredients together.
Add in wet ingredients.
Stir until just combined. If you over-mix you can end up with dense pancakes.
Let the batter rest for at least 10 minutes. This step is important because it hydrates the flour and helps the leavening distribute evenly throughout the batter. To read more about resting your batter check out this article.
Heat your non-stick griddle on medium heat. Don't worry about greasing the pan. I never do and have never had a problem.
Pour pancakes on your griddle. A ⅓ measuring cup is a perfect tool for this. Let them cook until bubbles form. Flip and cook for another minute and you are done!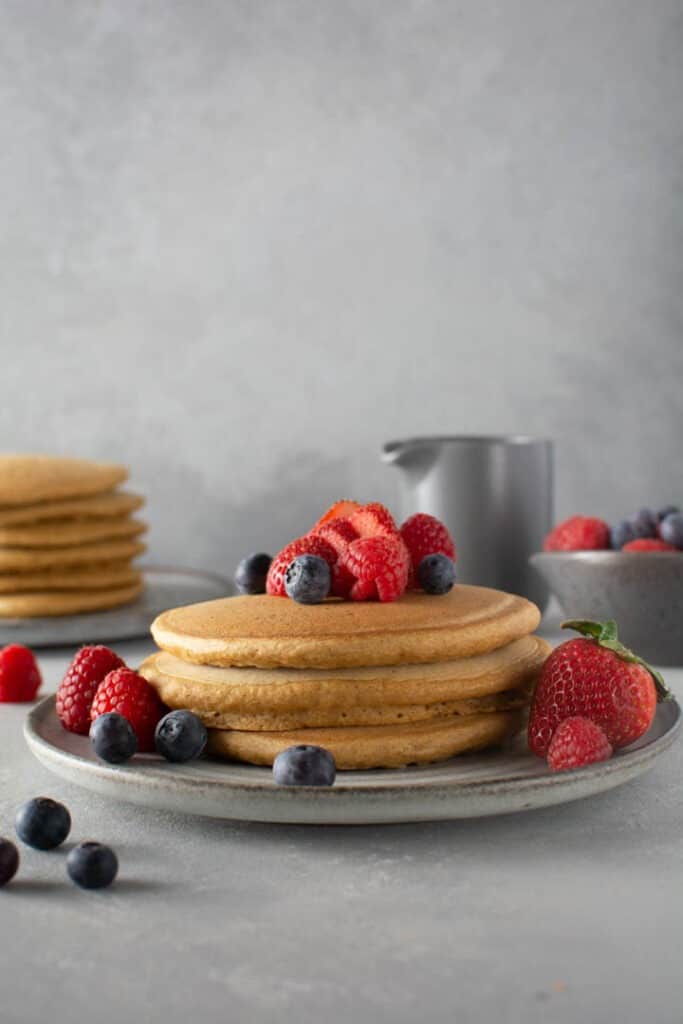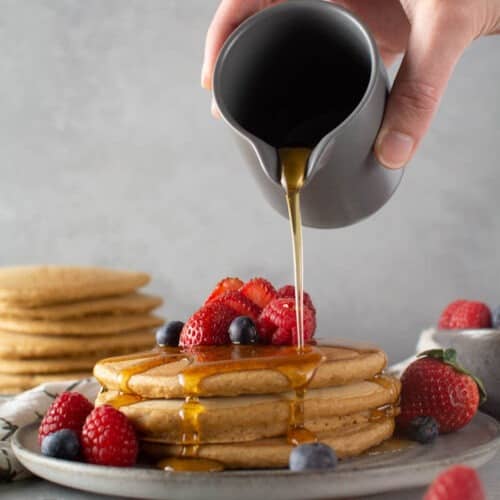 Ingredients
1 ½

cups

whole wheat flour

¼

cup

sweetener

1

tbsp

baking powder

½

teaspoon

baking soda

1

teaspoon

salt

½

teaspoon

cinnamon

optional

1

cup

plant-based milk

¼

cup

water

1

tablespoon

ACV

1

teaspoon

vanilla
Instructions
Whisk dry ingredients together in a bowl.

Add wet ingredients and mix til just combined.

Let batter rest for 10 to 30 minutes. Do NOT skip this step!

Heat griddle to medium heat.

Spoon about ⅓ cup batter onto griddle for each pancake.

Wait for bubbles to form on top of pancakes (about 1 ½ to 3 minutes)

Flip pancakes over and cook for another minute
Notes
Cook one pancake and taste it before you cook the rest. This is how I check to make sure there is enough sugar or make any other notes. Then you can adjust your batter before you cook the rest of the pancakes!
Resting the pancake batter gives the flour enough time to soak up the liquid and helps it cook better. This is why the instructions don't have you warming up your griddle from the beginning. 10 minutes is a good enough time for resting your batter. 
What are your favorite pancake toppings? Let me know in the comments below!