Fun fact: Brussels sprouts get their name from the capitol of Belgium, Brussels, where they were cultivated in the 16th century. This is why you will always see an "s" on the end of Brussels even when referring to only one sprout. It is also why the "B" is always capitalized.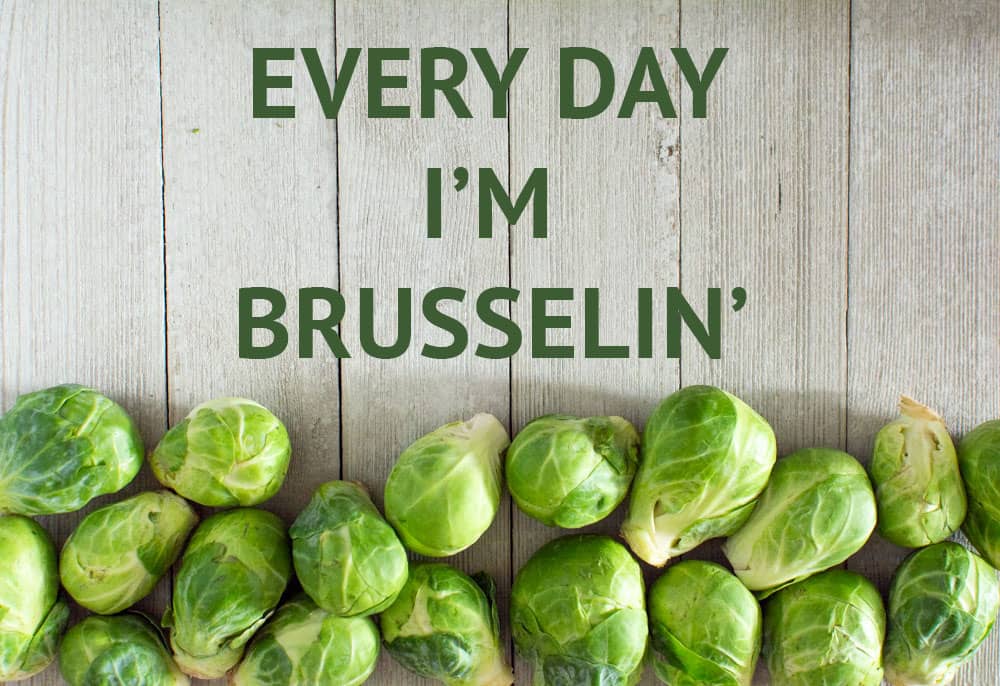 Brussels Sprouts Resume
Brussels Sprouts are amazing. They belong to the cruciferous family along with cabbage, broccoli, and cauliflower. Vegetables from the cruciferous family have been shown to
One cup of Brussels sprouts has more than the current recommended daily amount of both vitamin C and vitamin K. One cup of Brussels sprouts will give you roughly the same amount of vitamin C as an orange. They are also a great source of folate, manganese, vitamin B6, dietary fiber, choline, copper, vitamin B1, potassium, phosphorus and omega-3 fatty acids. (5)
Brussels sprouts have a nutrient density score of 32.23—this is a fancy way of saying that they have an insane amount of nutrients relative to their low-calorie count. Go Brussels Sprouts!
If you have been avoiding Brussels sprouts now is the time to rethink your position and give them another try.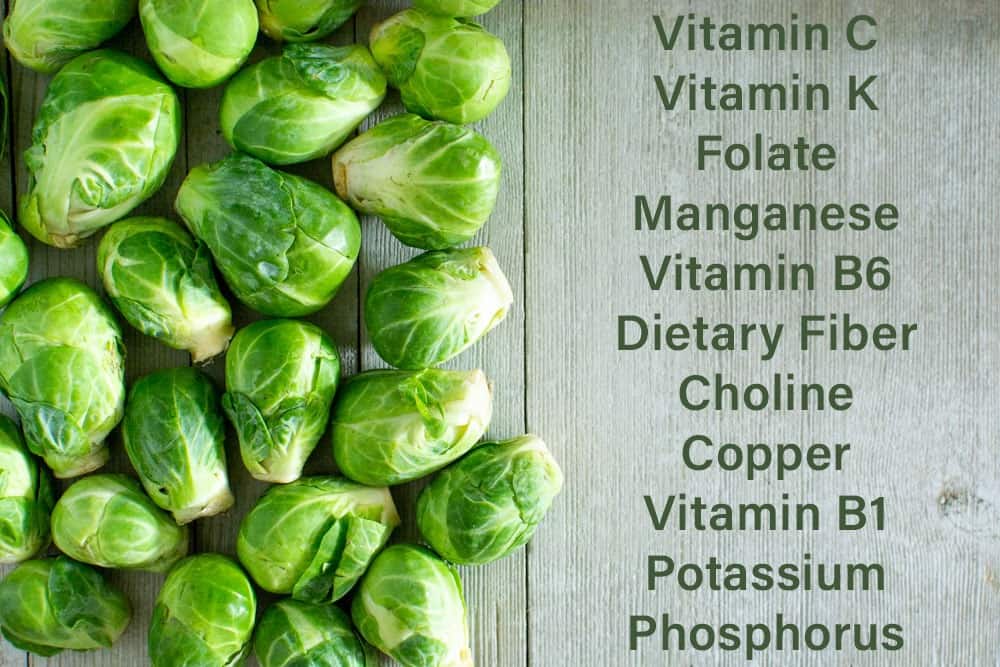 When are Brussels Sprouts in Season?
Brussels sprouts are in season late fall to early winter. The best time to buy them is right after the first frost—they produce sugars in response to the cold and are at their sweetest.
How to Select 
Most of the time Brussels sprouts will be loosely packed at the grocery store. But sometimes you will find them still on the stalk which indicates a fresher sprout. Look for sprouts that seem heavy for their size. Their leaves should be tightly packed and bright green. Loose or yellow leaves indicate old sprouts. The smaller sprouts tend to be sweeter so pick sprouts that are close in size so they have a similar flavor profile.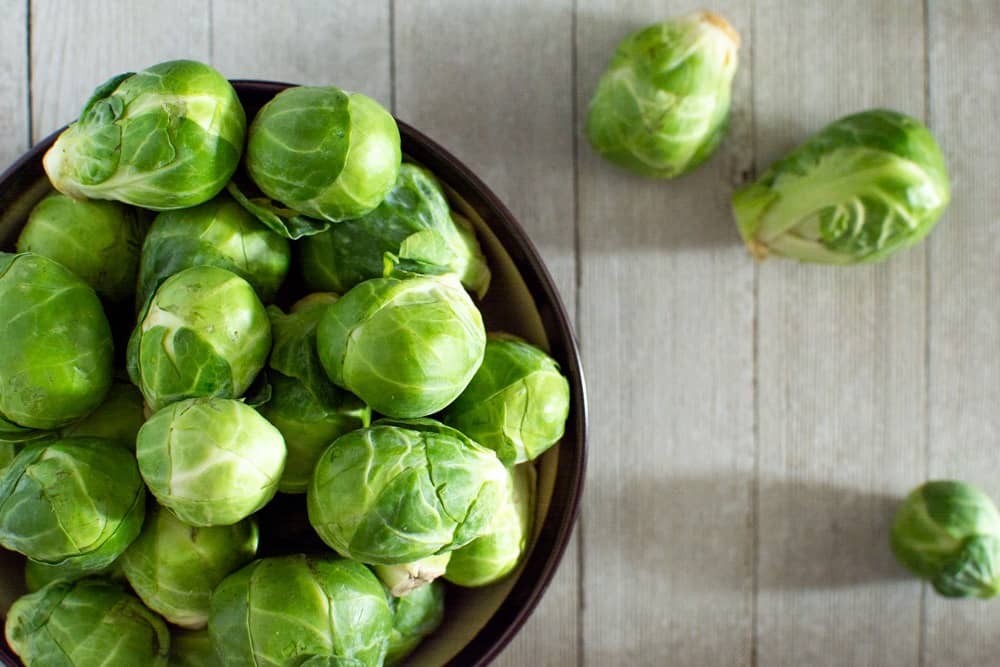 How to Store 
Store your sprouts in a plastic bag in the crisper drawer. If you buy them on the stalk leave them on the stalk until you are ready to use them—they will stay sweeter this way. Brussels sprouts can last up to a few weeks if you buy them fresh. However, the sooner you eat them the sweeter they will be.
How to Prepare 
Start by trimming off the end or bottom of each sprout and peeling off any loose leaves. Depending on how you want to cook them you can leave them whole, cut them in halves or quarters, slice them, or shred them.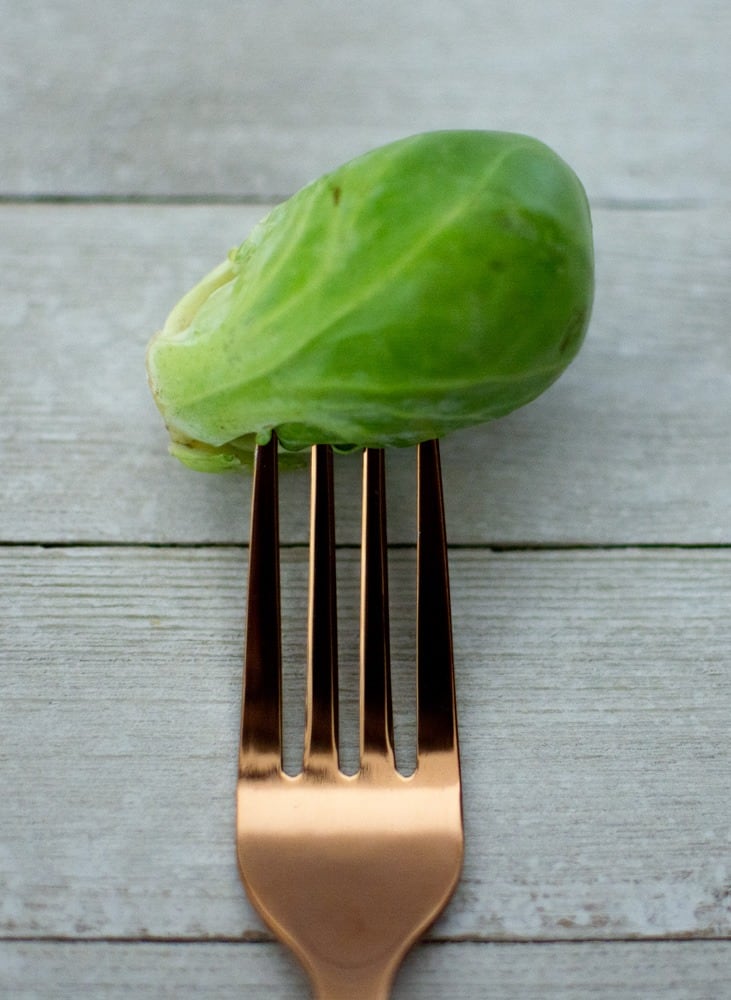 How to Cook 
You can eat them cooked or raw. They are delicious shredded raw into a salad or coleslaw like this one. If you want to cook them they are good sautéed, roasted, steamed, or braised. You can also boil them but overcooking will result in sprout hatred! My favorite way to cook them is to halve them, toss in a little oil and salt and roast them for about 15-25 minutes at 400 degrees F.  If they taste mushy or bitter they may be overcooked.
What is your favorite way to eat Brussels sprouts? If you used to hate them like I did, please share the recipe that converted you below!
SaveSave
SaveSave
SaveSave
SaveSave
SaveSave
SaveSave
SaveSave
SaveSave
SaveSave
SaveSave
SaveSave
SaveSave
SaveSave
SaveSave
SaveSave
SaveSave
SaveSave
SaveSave
SaveSave
SaveSave
SaveSave
SaveSave
SaveSave
SaveSave