It took me a whole year! I can't tell you how many variations I tried. I actually made a completely different recipe and post for vegan ranch dressing and then decided I didn't like it enough to publish it.
This recipe is so simple that I am embarrassed it took me a year to figure it out. I tried so many different ways to make a vegan ranch dressing that I like. And let me tell you, I finally nailed it!
I usually make this recipe with my mix of dried herbs. You can find the recipe for that here. But if you have fresh herbs on hand, use them! It is delicious either way.
If you want to use fresh herbs, combine all of the ingredients in the recipe except for the dry herbs. Then add one teaspoon each of garlic powder and onion powder. From there add whatever fresh herbs you have on hand to taste. Salt if needed.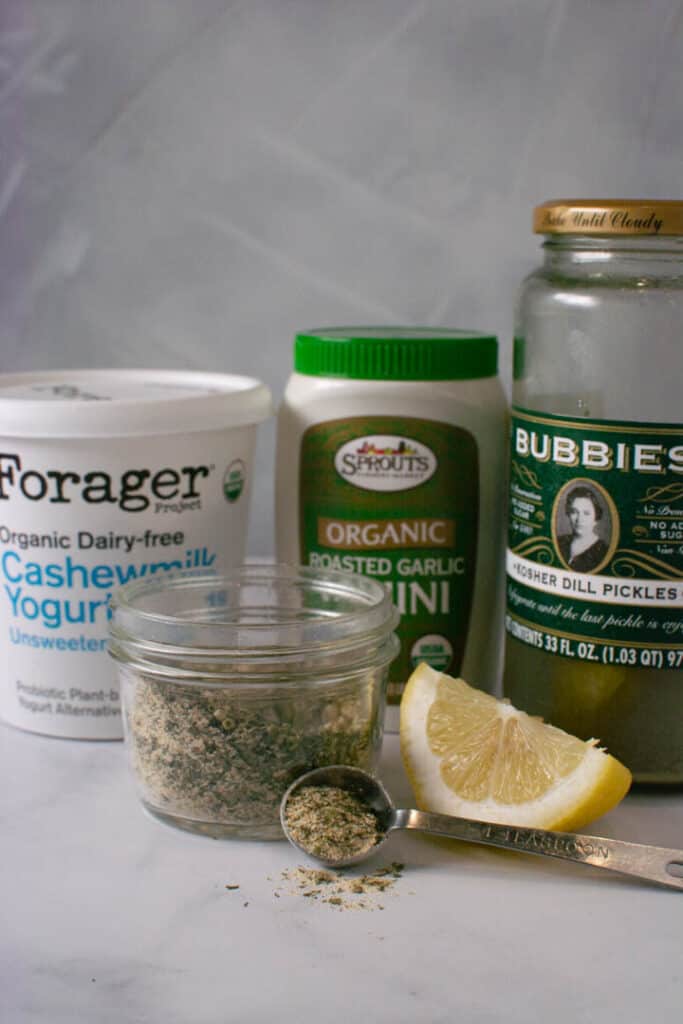 I love ranch on my salad. But I especially love dipping stuff in it. My favorite thing to dip in ranch? Garlic bread. I also really love dipping buffalo cauliflower wings in this dressing. Don't worry. That recipe is coming soon. I almost have it perfected.
You can add sweetener to the dressing if that is your jam! Use a neutral-tasting liquid sweetener like agave instead of maple so you don't change the flavor. Starting with around a teaspoon, mix in a little at a time until you reach your desired sweetness.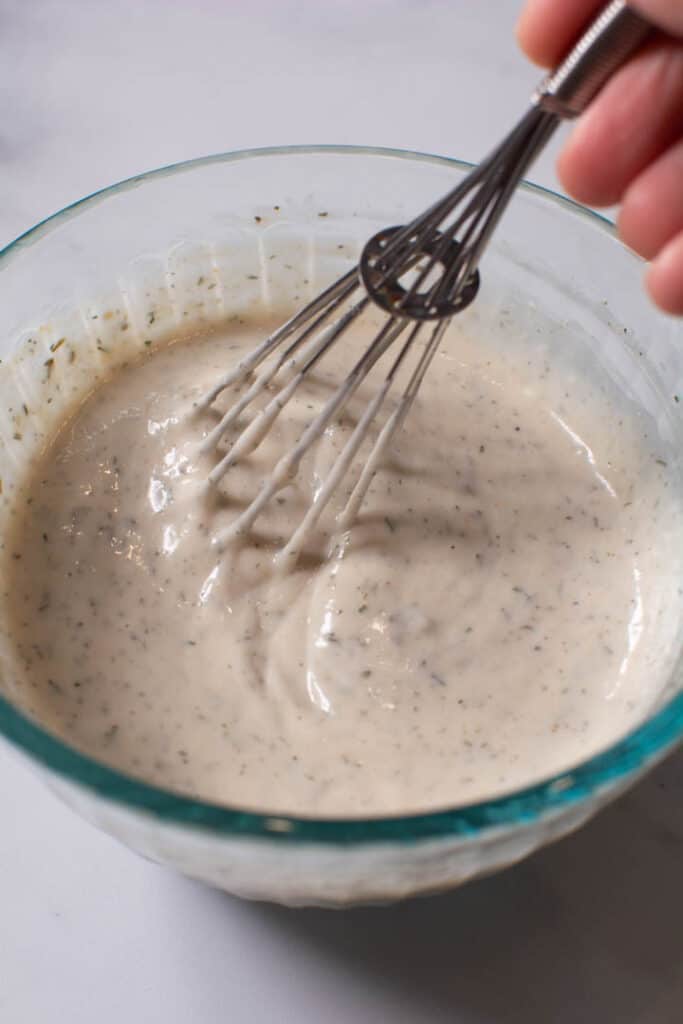 I love Forager's plain cashew coconut yogurt. I am not sponsored, but it is the best yogurt for this recipe! It is mild and has a perfect consistency. But if you can only find straight coconut yogurt, no worries. I would add a little sweetener to tone down the coconut flavor. And add the pickle juice a little at a time. The full tablespoon might be too tart.
For the pickle juice, I like to use a good fermented brand such as Bubbies. Might as well get in some extra probiotics where you can. If you don't have fermented pickles but still want the probiotics, you can evenly swap out the pickle juice for sauerkraut juice. If you don't have fermented veggies, don't let that stop you! Regular dill pickle juice is great. It is the flavor that is important.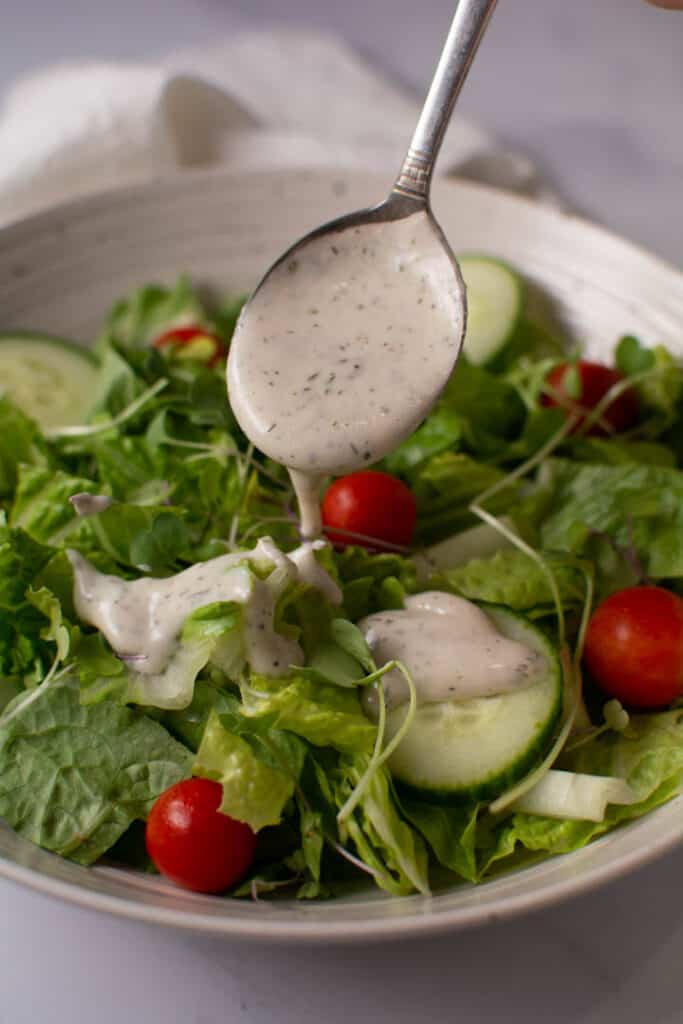 After that everything is straightforward. Add all the ingredients to a bowl, and whisk together. Only add water or milk if it is too thick. I find it usually doesn't need any.
Do you like dipping garlic bread in ranch? Or is that just me? Let me know in the comments what your favorite use for ranch dressing is.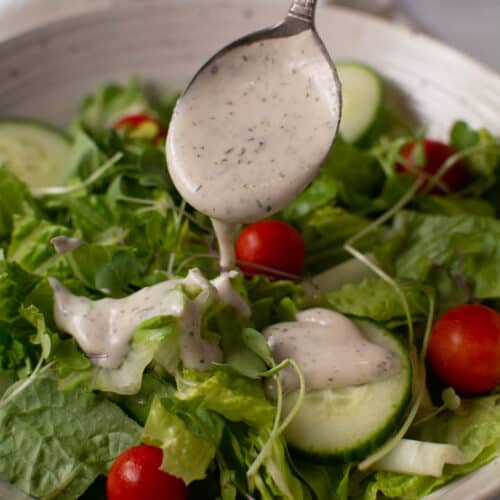 Ingredients
1

cup

dairy free unsweetened yogurt

1

tablespoon

tahini

1

tbsp

lemon juice

1

tablespoon

pickle juice

1.5

tablespoon

dry ranch mix

water or non-dairy milk to thin

only if necessary
Instructions
Combine first 5 ingredients and mix well.

Add liquid of choice until desired consistency is reached.
Notes
I like to use Forager brand of dairy-free unsweetened yogurt but any other should do fine
You could also use the juice from sauerkraut if you don't have any pickle juice.
If you want to add sweetener, use one with a neutral or mild taste such as agave.