This Strawberry Banana Smoothie with Almond Milk is very nostalgic for me. When I was younger I thought my mom was a little crazy. She LOVED to get milkshakes. I'm pretty sure it was her favorite thing. This, of course, didn't make her crazy. What I thought was a little strange was that she always got strawberry banana shakes. I remember wondering when I was a kid if she had ever tasted an oreo shake. I mean, who gets strawberry banana when there is oreo?
Fast forward a few years and given the choice, I would still pick oreo. But I have found a place in my heart for her flavor combination of choice.
This is the point where my son would interject and ask me why I am talking about milkshakes on a post about smoothies. He is adorably technical. But if you are wondering the same thing it's because I don't think they are that different.
They are both thick cold and delicious drinks. The biggest difference is that you can make one much healthier and more nourishing.

This recipe for the strawberry banana smoothie with almond milk is dairy-free. However, the combination of almond milk and frozen bananas gives it such a good flavor that you won't miss the dairy too much. Also, it's not as heavy and has less sugar than a milkshake. And, depending on what almond milk you use, the only sugar in the smoothie is from fruit. It's just a good situation all around.
If you are just venturing into the smoothie world, this Strawberry Banana Smoothie with Almond Milk is a great place to begin. It is simple, kid-friendly, and delicious. Also, drinking it makes you think of your mom. No? Just me?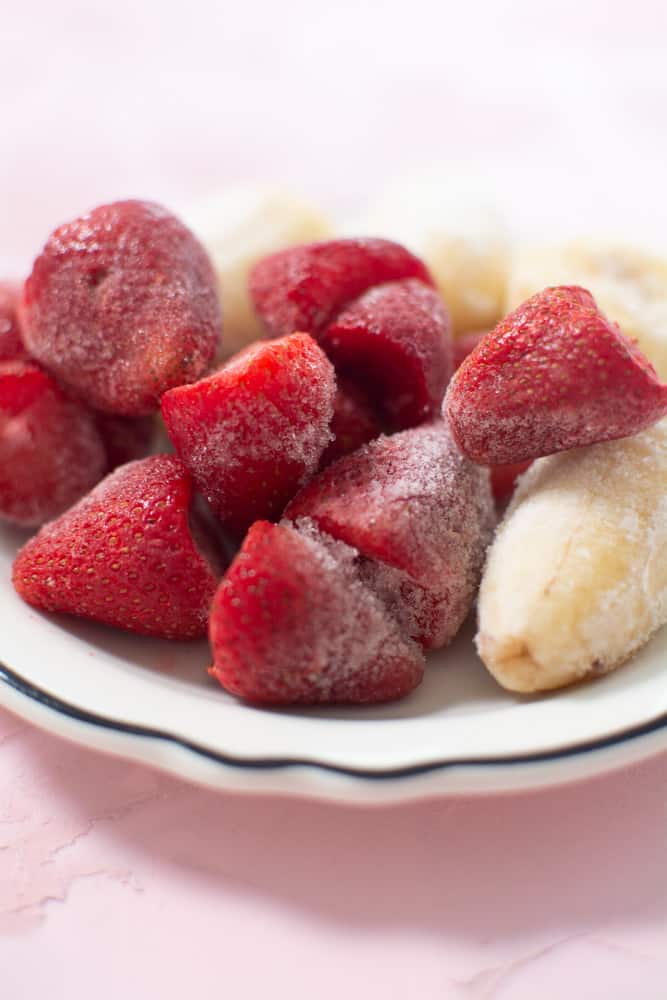 Once you get the hang of this smoothie (as if it's something you need to get the hang of…) you can take it in several different directions. It is delicious if you want to add some greens to it. If you want more of a milkshake consistency you can add more frozen banana. If you want less sugar you can decrease the number of dates or take them out entirely. You really can't go wrong.
The only thing that I would advise against is leaving out the vanilla. You can still enjoy this smoothie sans vanilla but it rounds out the flavors so well. You have two options when it comes to vanilla. You can add vanilla in as a separate ingredient, or you can use almond milk that already has vanilla flavor added to it. Either way, you are good to go.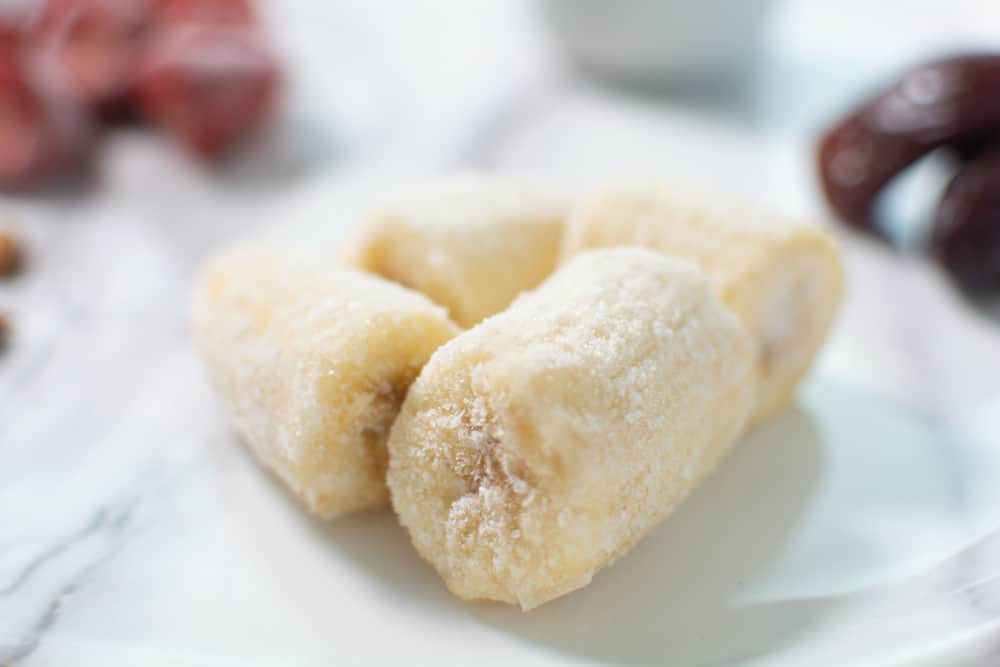 A note on the bananas. I wrote this recipe using frozen bananas. I love the consistency that they bring to my smoothies. They are what makes it feel like you are almost drinking a milkshake.
A tip for frozen bananas: you don't have to wait until they are turning brown to freeze them. Also, many people tell you to freeze them in a single layer on a tray before bagging them. I can count on one hand the number of times that I have had room in my freezer to freeze things separately on a tray before bagging them(read: never).
What I like to do is peel my bananas, break them into quarters and throw them in a gallon ziplock. I fill up the ziplock and then put it in the freezer. If they are stuck together when you pull the bag out you can throw it on the floor which breaks them apart pretty easily, and gets a little aggression out.
You can freeze the bananas whole, but you will want to break them into smaller pieces before blending them up. I do this on occasion but it is easier to just quarter them in the beginning.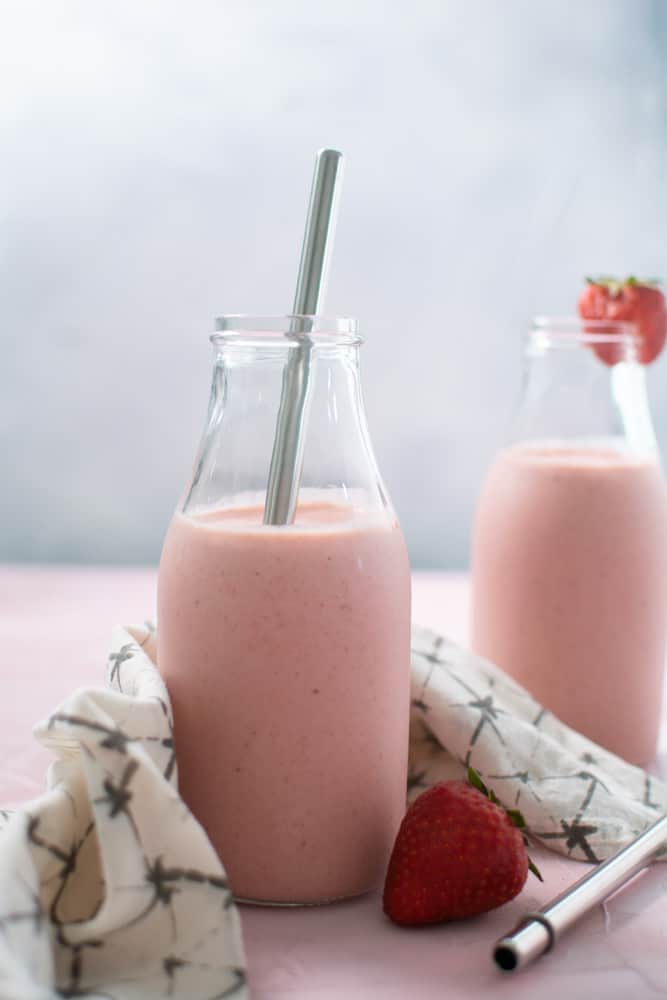 If you only have fresh bananas and you have an immediate need to get your smoothie on, go ahead and use a fresh banana. Just use less almond milk and you should be good to go.
If you are also using fresh strawberries add some ice. I always recommend using mostly frozen fruit because it creates a better consistency. But if you don't have any frozen, adding ice will help. If you go this direction, make sure you drink it right away or it will start to taste watery as the ice melts.
My kids love this smoothie. Especially if I serve it in a fun glass.

Strawberry Banana Smoothie with Almond Milk
This is a basic smoothie recipe that is DELICIOUS and should be in everybody's arsenal!
Print
Pin
Rate
Ingredients
1

cup

strawberries

frozen

1

cup

almond milk

1

banana

frozen

1-2

dates

pitted

1

teaspoon

vanilla
Instructions
Blend all ingredients together until creamy and enjoy!
Notes
If you don't have a high speed blender, let the dates soak in the almond milk for a few minutes before adding the rest of the ingredients.