Lemon Dill Hummus is your new favorite dip! Trust me. It is so bright and refreshing you will want to put it on everything! Use it as a dip, sandwich spread, on your morning toast, or heck, if you want to, just eat it with a spoon. I wouldn't blame you. It has loads of healthy fiber, so much flavor and is great for a healthy snack!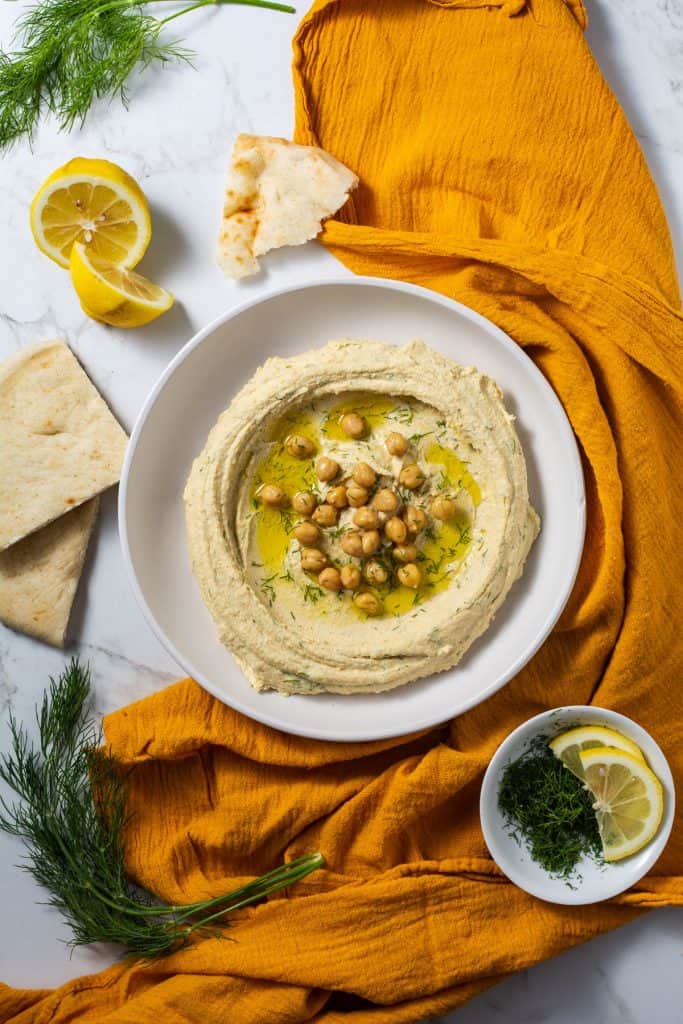 This hummus is made from scratch but don't let that scare you. It really is easy. Using dried beans is the best option but I won't judge you if you can't wait that long! Canned beans will work in a pinch.
There is a lot of debate about where exactly hummus originates from. It is common everywhere but used to mainly be found in Greece, Arab, and Israel. The earliest written record of hummus is from Egypt in the 13th century.
Wherever it originates, many people seem to agree that it is delicious. And I definitely fall into that camp. But it's gotta be super creamy. The grainy stuff just doesn't measure up. Don't worry. Your hummus is going to be so creamy you are going to be dreaming about it for months.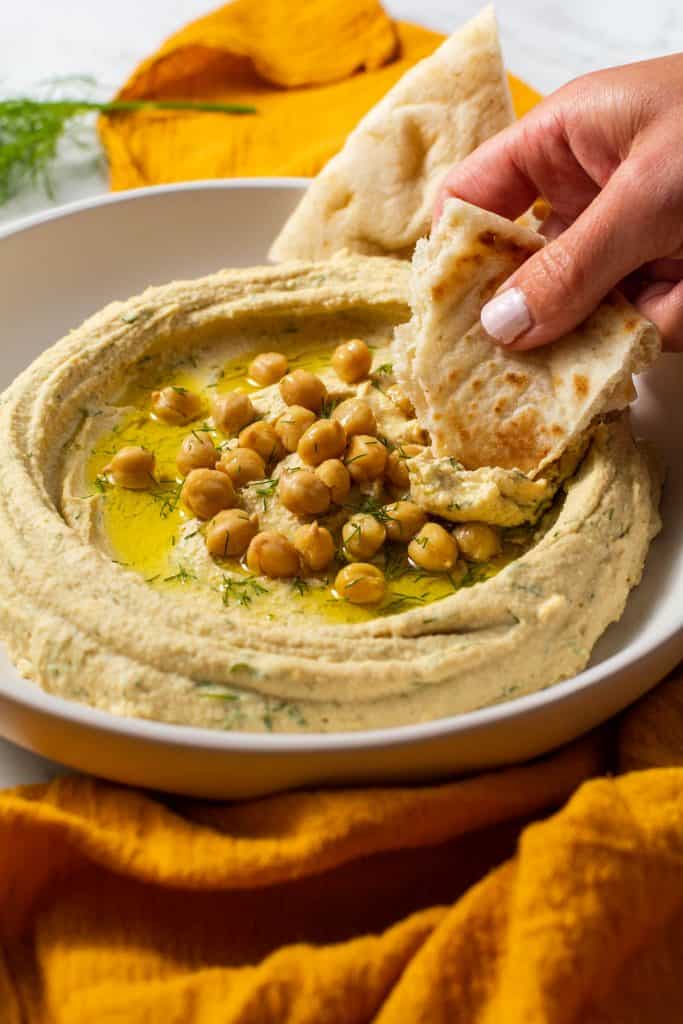 What is the secret to super creamy hummus? The answer is in the skin of the chickpeas. The skin doesn't break down easily when cooking. Most people will tell you that you need to take the skin off of every chickpea before you process them into dip. And while this does result in a creamier hummus, I have two other options that work just as well.
Option #1: Use baking soda when cooking your chickpeas to help break down the skin. Then, cook the chickpeas twice as long as you think you need to. Cook them til they are creamy and then cook them another 30 to 60 minutes until they are mushy!
Option #2: Use chana dal instead of regular dried chickpeas. Did you know that chana dal is split chickpeas and that in the process of splitting them the skin is removed? I think they might be a little pricier than buying regular chickpeas so that is something to keep in mind. Some people claim that the flavor isn't the same. They might be right. But I enjoy it so if you want to give it a go I won't stop you!
Jump to:
Ingredients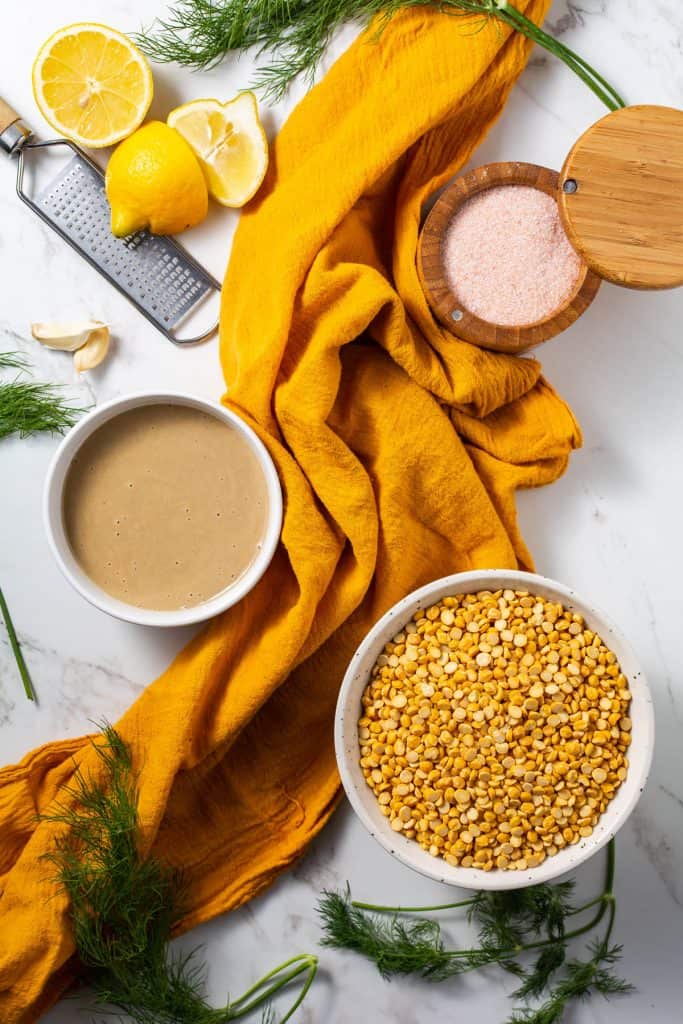 Chickpeas - Also known as garbanzo beans and are the most crucial ingredient for hummus! It is best to use dried chickpeas. You can use either the whole chickpea or if you have some chana dal that works as well. I used chana dal for the photos but both work. You can also use canned chickpeas. Tips for using canned chickpeas are below. Some people like to sub chickpeas with white beans or some other type of legume. Though if you do that I would steer away from calling it hummus since the word hummus actually means chickpea in arabic!
Garlic Cloves - Some people cook the garlic with the chickpeas. I just threw it in raw when I was blending them up. It's up to you! If you put them in raw, slice them in half for easier processing. I like fresh garlic but powdered garlic would also be delicious
Tahini - This is what gives hummus its richness. Tahini is a paste made out of sesame seeds. Some brands roast their seeds and some don't. Which one you use depends on your preference. You can usually find tahini at most grocery stores. It is either in the ethnic aisle or next to the peanut butter. You can also order it online. Some good brands are Mighty Sesame or Soom.
Baking Soda - This helps the chickpeas to break down and makes the hummus super creamy.
Ice - You can add super cold ice water or you can add ice cubes! I find that ice cubes give a creamier result. Some people like to use the cooking liquid from the chickpeas. The stuff is awesome. If you choose to go this route, make sure to chill it in the fridge overnight with your chickpeas.
Lemon juice - Fresh is the absolute best. You can use jarred lemon juice in a pinch but the flavor won't be near as good.
Salt - This is what helps all the flavors to sing together! Salt enhances the flavors in most dishes and hummus is no exception. If you are salt free, go ahead and skip it but I can't promise the same results.
Lemon zest - Not a typical ingredient in hummus but this is what gives the extra lemon flavor that goes so well with the dill. Using real lemons is ideal!
Dill - I like using fresh dill but you can also use dried if that is what you have. This is the only thing that I don't throw into the food processor because I don't want to turn the hummus green. If you don't like dill you can replace it with other fresh herbs.
See recipe card for quantities.
Top tip
If your garlic is older with a green sprout, remove as much as the green as possible. Otherwise it can give an off putting flavor to your hummus.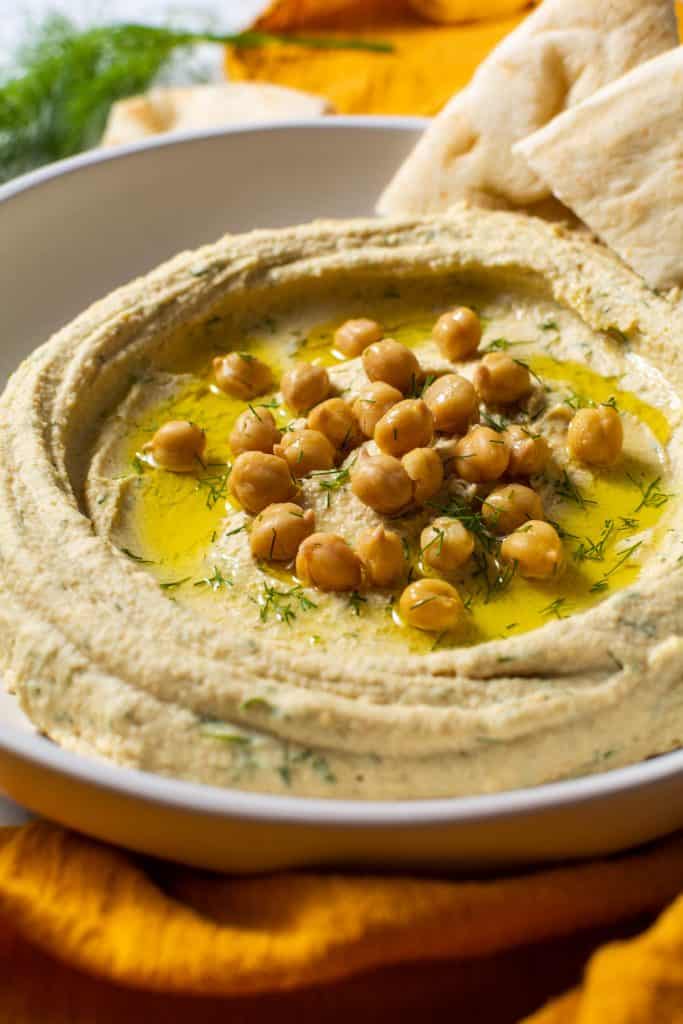 Equipment
It is easiest to use a food processor with a chopping blade. But if that isn't available you can use a high-speed blender. If you do use a blender, blend it in smaller batches.
Instructions
Step one: Measure your chickpeas into a bowl and cover with water by a few inches. Let soak overnight.
Step two: Drain the chickpeas. Add to a pot with fresh water. Turn your stove on high heat. Once the water is boiling turn the heat to medium and cook for 60-90 minutes. You can stir any foam that rises to the top back into the beans. When the beans are a mushy texture they are done cooking.
Step three: Drain any extra water off of the chickpeas. Place the beans in an airtight container and cool down in the fridge several hours to overnight. You want to let them cool down completely or they will soak up too much liquid.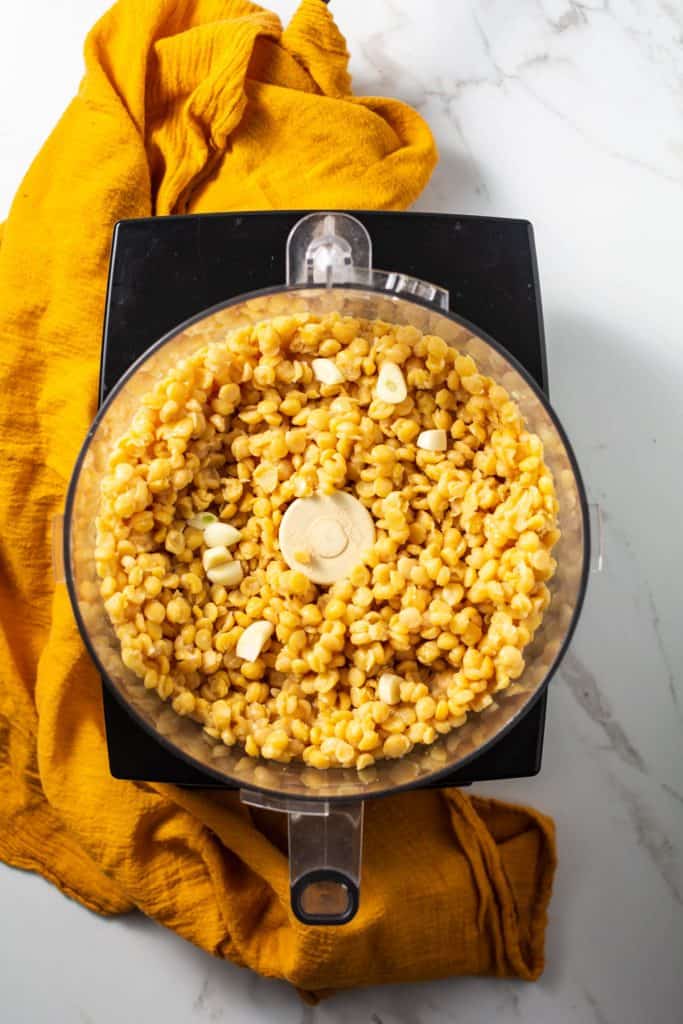 Step four: Add the cooled chickpeas to a food processor with your garlic. Blend until smooth. Scrape down the sides of the bowl as needed.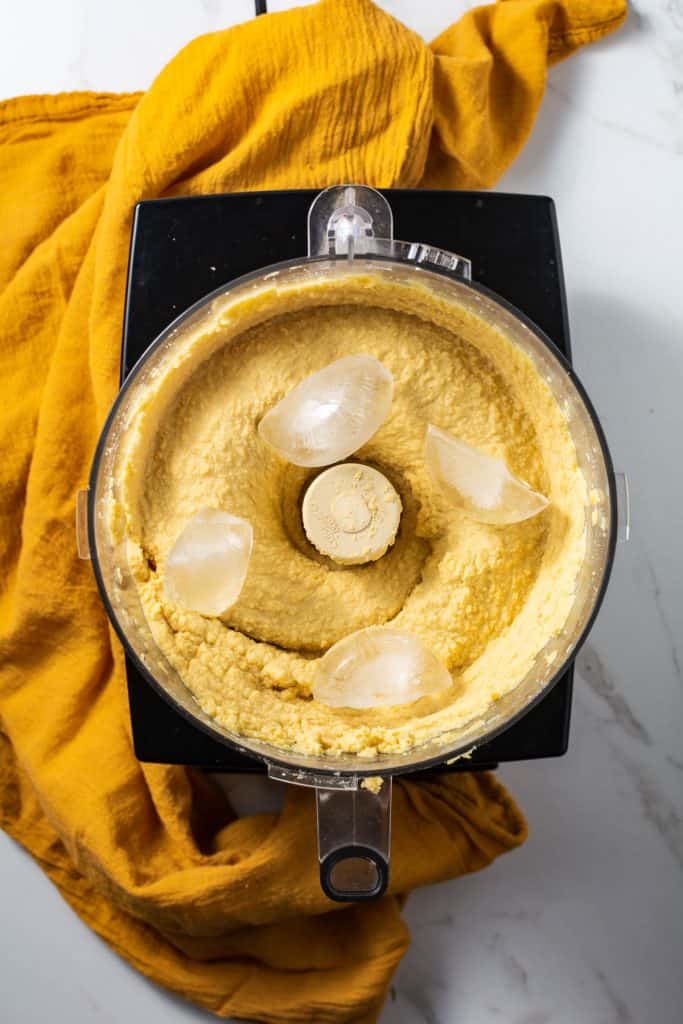 Step five: Add the ice cubes into the food processor. It is important to do it in this order. If you add the tahini before the ice it can warm the beans up too much and mess with the texture.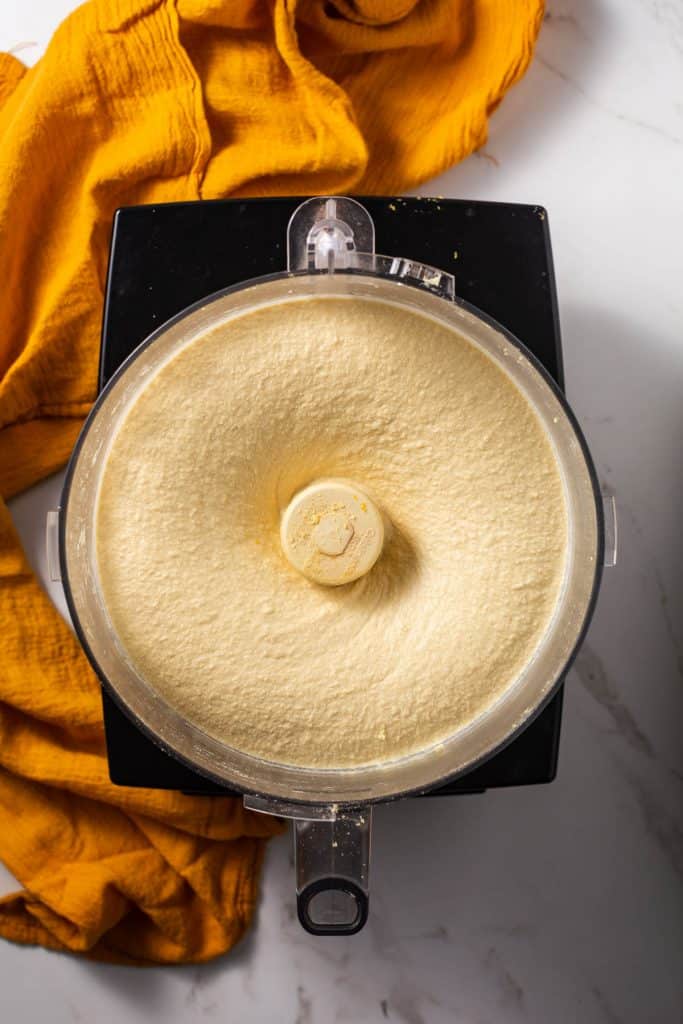 Step six: Add the tahini to the food processor and mix until combined.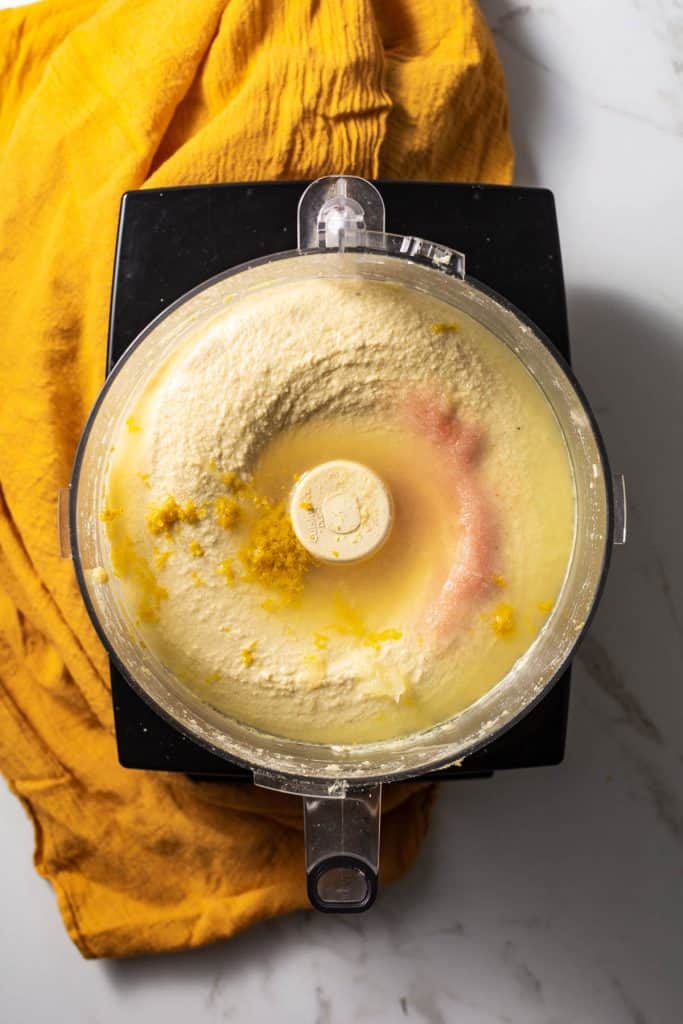 Step seven: Now you can add the lemon juice, salt, and lemon zest. Process until well incorporated.
Now is a good time to taste your hummus. If you find that you would like more salt or zest etc you can add it and process again.
Step eight: Stir in the chopped dill. I like to do this in a separate bowl instead of the work bowl of the food processor because it is easier.
Step nine: Serve! For presentation, drop a few spoonfuls of hummus onto a plate. Using the back of a spoon push down into the center of the hummus in a nice swirl creating a bowl shape. Alternatively you can use a serving bowl. You can put whole chickpeas and a drizzle of olive oil on top of the hummus. Or eat it plain. It is delicious no matter how you decide to serve it!
Storage
Hummus can be stored in the fridge for 4-5 days and in the freezer for up to 4 months. Keep in mind that freezing it can change the texture a little bit.
To store, place in an airtight container and put in the fridge or the freezer.
Variations
I love the bright flavors in this lemon dill hummus recipe. But you can easily create other flavors. If you just want a lemon hummus you can leave the dill out. To make this similar to traditional hummus recipes just leave the dill and the lemon zest out. The best part about homemade hummus is that you can do whatever you want with it!
Some fun flavors to add to hummus are za'atar, roasted red pepper, or roasted garlic. And you don't have to make a savory hummus. You can make sweet hummus as well! A popular variation is chocolate hummus.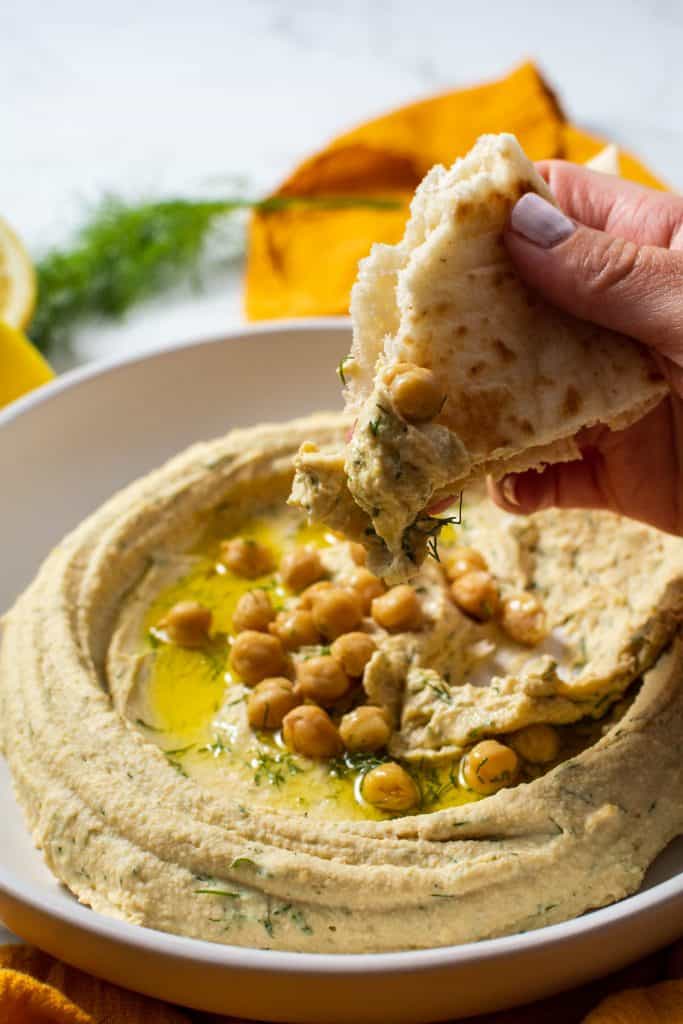 FAQ's
How do I use canned chickpeas for hummus?


To use canned chickpeas, drain the chickpeas, and place in a pan. Add the baking soda and water and bring to a boil. Turn the heat down to medium and let cook for about 30-40 minutes until mushy.

Why does my hummus taste bitter?

The bitter ingredient in hummus is tahini. This is what makes the hummus taste rich. However, there are many different types of tahini and some are much more bitter than others. So if your hummus is coming out bitter, try a different brand of tahini before throwing in the towel! 

Another thing that might make your hummus bitter is zesting your lemon too deep. If you are getting into the white part of the lemon skin then you are getting too deep. This part is usually pretty bitter.
What to serve with hummus?

There are so many options! My favorite is to eat it with pita bread. It is delicious as a veggie dip, a sandwich spread, on a wrap, or even used in salad dressing or pasta sauce. I love to eat it in rice bowls as well. It would be delicious in this mediterranean bowl. We also like it with pita chips or even Yum!
Recipe adapted from this video.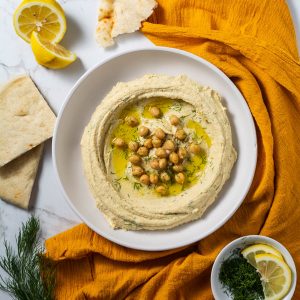 Lemon Dill Hummus
A bright twist on traditional hummus.
Print
Pin
Rate
Ingredients
1 ¼

cup

dried chickpeas

250 grams (or about 4 cups canned)

1

teaspoon

baking soda

1

garlic clove

2-3

ice cubes

35-50 grams

½

cup

tahini

2-3

tablespoon

fresh lemon juice

zest

from one lemon

1

teaspoon

salt

1-2

tablespoons

fresh minced dill

or 1-2 teaspoons dried
Instructions
Soak chickpeas over night.

Boil chickpeas with 1 teaspoon of baking soda until they are mushy. (about twice as long as you would normally cooke them.)

Drain and cool in the fridge for a few hours to overnight.

Add chickpeas and garlic clove to a food processor and process until smooth.

Add ice cubes and process until incorporated.

Add tahini and process until incorporated.

Add lemon juice, salt, and lemon zest and process.

Serve with a drizzle of olive oil and whole chickpeas on top.
Notes
If you decide to use chana dal instead of regular dried chickpeas, measure out about 1 cup and 2 tablespoons or weight it.
Nutrition
Serving:
0.25
recipe
|
Calories:
285.7
kcal
|
Carbohydrates:
24.8
g
|
Protein:
10.7
g
|
Fat:
17.8
g
|
Saturated Fat:
2.4
g
|
Polyunsaturated Fat:
7.8
g
|
Monounsaturated Fat:
6.5
g
|
Sodium:
943.3
mg
|
Potassium:
322
mg
|
Fiber:
7.7
g
|
Sugar:
4
g
|
Vitamin A:
49
IU
|
Vitamin C:
7.8
mg
|
Calcium:
161.8
mg
|
Iron:
4.5
mg