Barbecue beans are the beans that made me fall in love with beans. Ya feel me? Before I became plant-based there weren't many meals that I ate with beans in them. Now I eat them all the dang time! I love all the ways to eat beans, but barbecue beans are definitely at the top of my list.
I had my own recipe for barbecue beans before going plant-based that I loved. So it wasn't too complicated to alter it a little bit to make it vegan. I was worried at first that I wouldn't like them as much, but they are delicious! You will love them.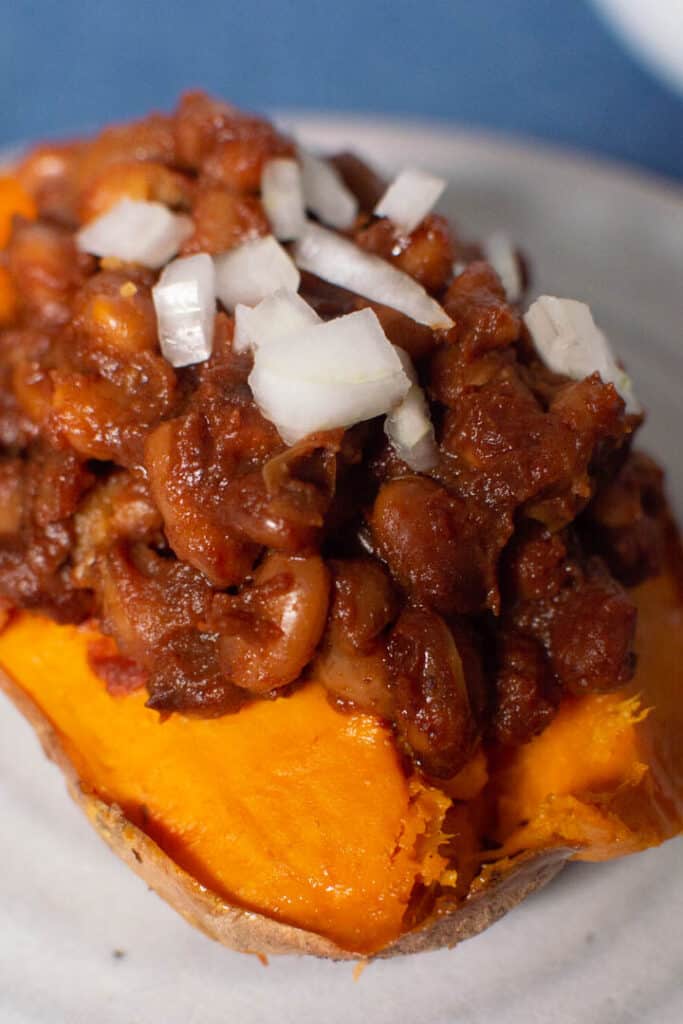 The beans take a while to bake, but other than that the most difficult thing about this recipe is chopping up and sauteing the onions. Other than that you just need to throw the sauce ingredients into a blender. Then add the onions, cooked beans, and sauce to a pan, cover, and bake!
Blending the sauce is necessary because there are dates in the sauce. But if you don't have a powerful blender you can soak the dates until they are soft or use a date paste. If you can't use dates you can sub in a different sweetener at 1 tablespoon per date. The taste will be altered but will still be delicious!
My favorite way to eat these beans is with potatoes: baked russets, sweet potatoes, potato salad, hash browns, you name it. They are also a perfect addition to your next barbecue.
What recipe helped you to fall in love with beans? Let me know in the comments!
P.s. If you are looking for other great barbecue side dishes, check out this pasta salad!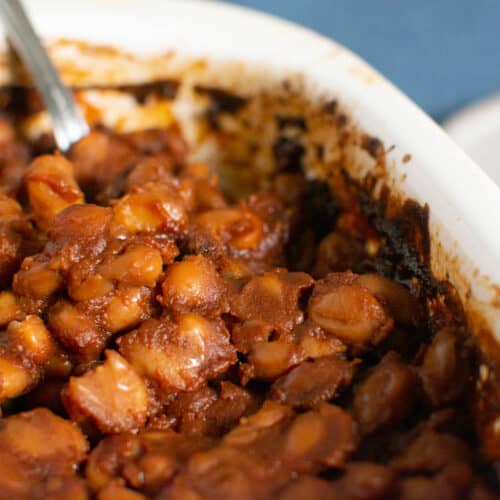 Ingredients
4

cans

white beans

1

small

onion

diced

1

8 oz (?) can

tomato paste

3

tablespoon

coconut aminos

or low sodium soy sauce

3

tablespoon

apple cider vinegar

¼

cup

maple syrup

3

cloves

garlic

1

teaspoon

salt

2

teaspoon

yellow mustard

¼

cup

molasses

1

pinch

chili flakes

½

teaspoon

smoked paprika

3

medjool dates

1

cup

veggie broth or water
Instructions
Preheat oven to 325 degrees.

Saute onions till soft and fragrant.

Blend sauce ingredients in blender until smooth. (make sure dates are blended well)

Mix white beans, onions, and sauce mixture into a baking dish.

Make sure to cover the dish with an oven safe lid or parchment and tinfoil.

Bake covered for 3-4 hours.