Sun-dried tomatoes are one of my favorite things on this planet. So are mushrooms. So is basil. What I am trying to say is that this recipe is one of my favorite things. Vegan Sun-dried Tomato Pasta. Even saying it makes me happy.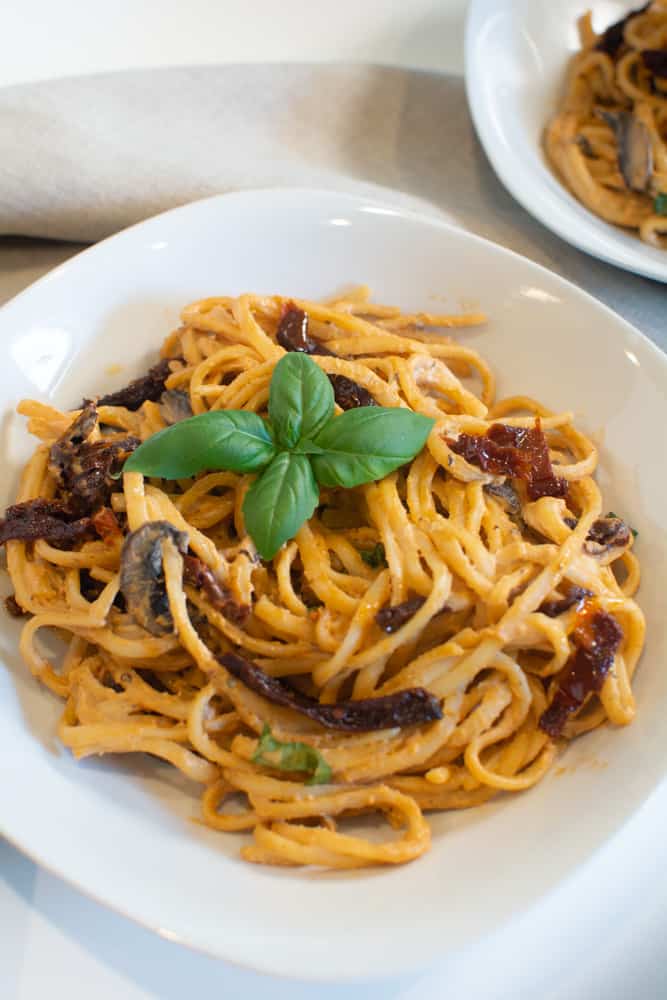 Whenever I run into an overabundance of tomatoes I almost always choose to dehydrate them instead of bottle them. It's by far my favorite way to eat them. Sometimes I put them in oil, sometimes I don't. But they are always delicious, and this creamy pasta is a great way to use them.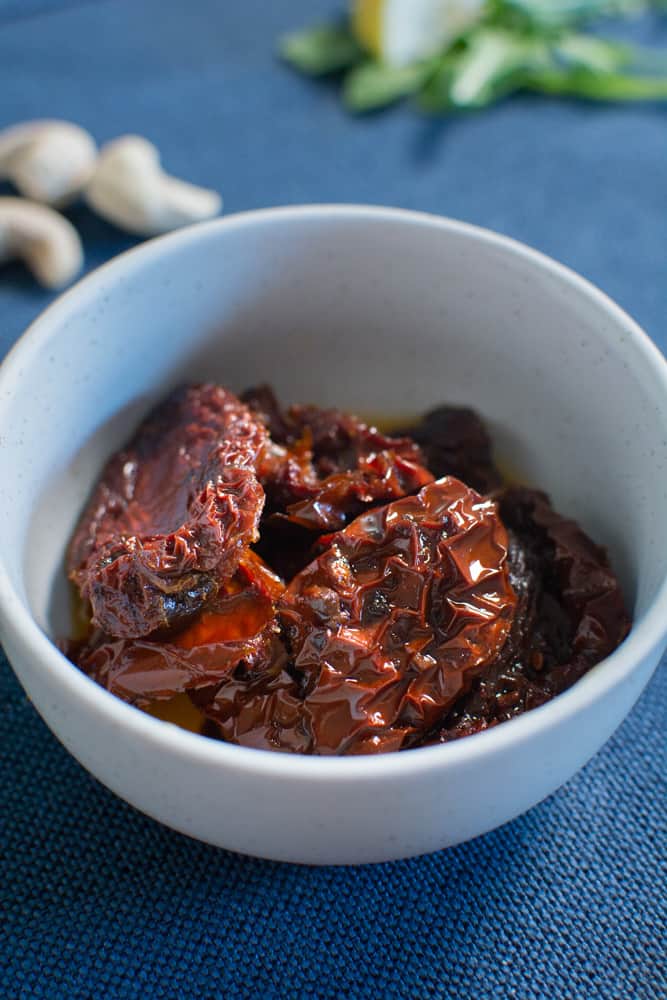 If you don't have your own dried tomatoes lying around (yeah, I'm not always that lucky either) they are pretty easy to find at your favorite grocery store. The only thing I want to mention is if you think you don't like sun-dried tomatoes, the taste can be drastically different between brands. I have run into a couple of brands that I don't love. So don't give up on them just try a different brand!
I use cashews to make a creamy base for the dressing of this recipe. Soaking the cashews before blending them helps them to get super creamy.
There are a few options for soaking:
You can soak them for 1-4 hours at room temperature.
You can soak them longer if needed in the refrigerator (I often do this as part of my meal prep). Doing an overnight to 24-hour soak gives the creamiest texture.
You can soak them in very hot water for 10-15 minutes.
Or if you are short on time you can boil them for about ten minutes.
But if I am feeling like upping the protein or saving some money I will use white beans. They work well but they don't get quite as creamy as cashews.
Part of the joy of sun-dried tomatoes is their chewy texture when you bite into them. It takes just long enough to chew them that the flavor has exactly the right amount of time to entertain your taste buds. I LOVE pairing them with oregano and basil.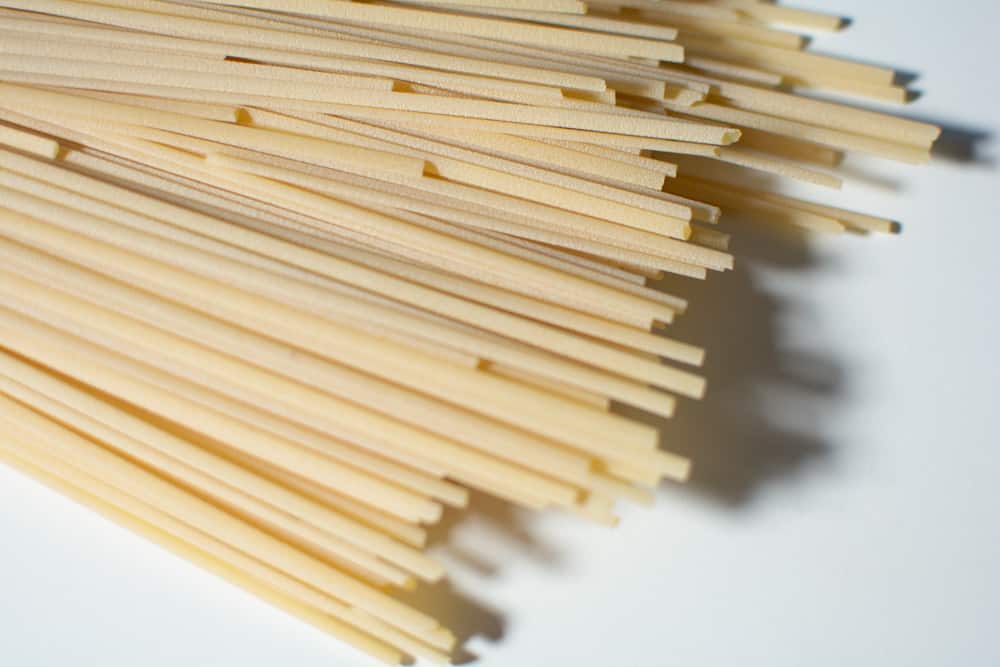 I like this pasta best with a good linguini. I'm not saying that I will hunt you down if you decide to use a different type of noodle. I have tried it with several different types of noodles depending on what I have on hand and they all work. But if you can, go with the linguini. The shape and texture compliment the sun-dried tomatoes well.
This recipe is flexible. If you don't have fresh basil, you can use dried or leave it out. You can leave out the mushrooms if mushrooms aren't your thing. You can add in other ingredients as well. This pasta would be delicious with added spinach and toasted pine nuts.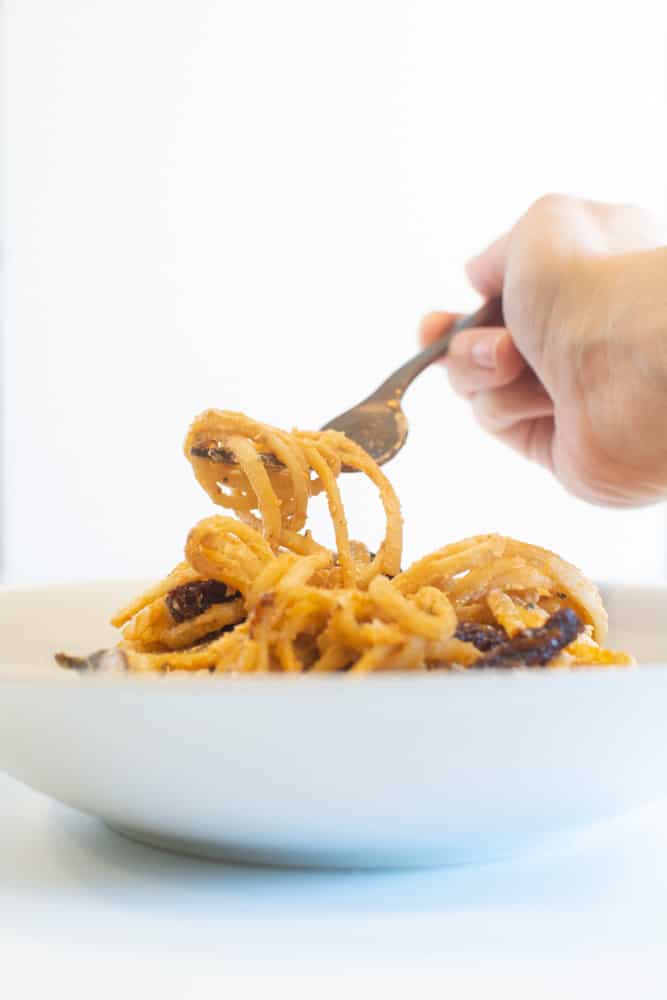 There are a few steps to this recipe but I still consider it simple. You can have it all ready in the time that it takes to cook the noodles.
Just put the noodles on to cook and while they are doing their thing start sautéing the onions and garlic. Once the onions and garlic are cooked add all the sauce ingredients together and blend them up.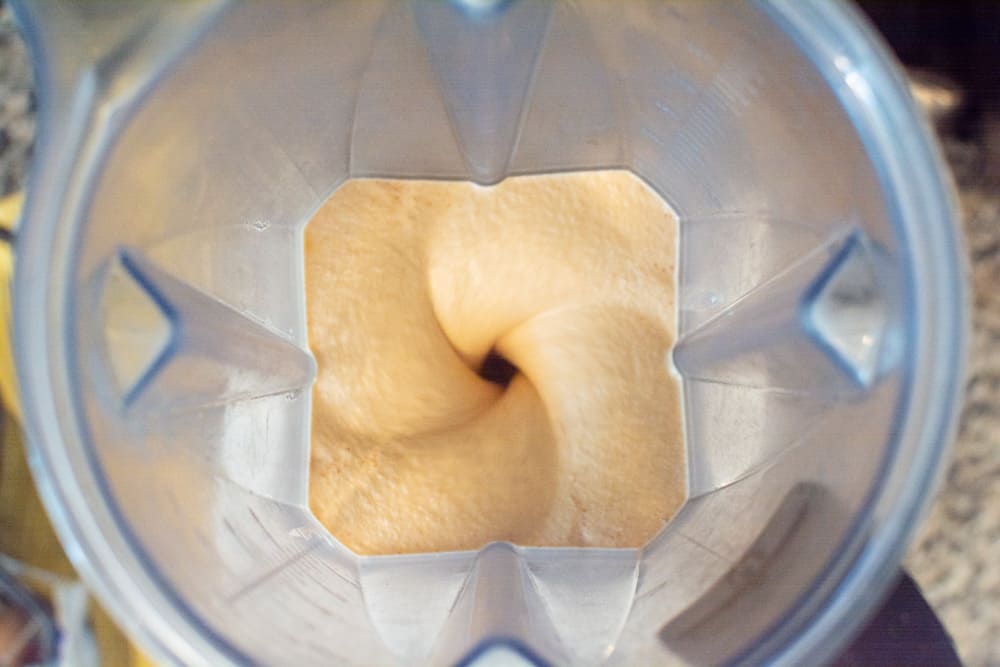 I like to blend about one-third of the sun-dried tomatoes into the sauce to make sure their flavor spreads throughout the whole dish. If you get sun-dried tomatoes that have been packed in oil it adds a beautiful dimension to the dish. It also prevents your pasta from getting too dry. If you prefer to go oil-free add a splash more almond milk to keep things creamy.
Bonus Tip: When I reheat any type of pasta dish as a leftover, I always add a liquid, like almond milk or water to make sure it doesn't dry out.
At this point, I like to slice the rest of the sun-dried tomatoes up into long slices to add in at the end. Trust me, having the bigger chunks of sun-dried tomatoes mixed into the pasta is pure happiness.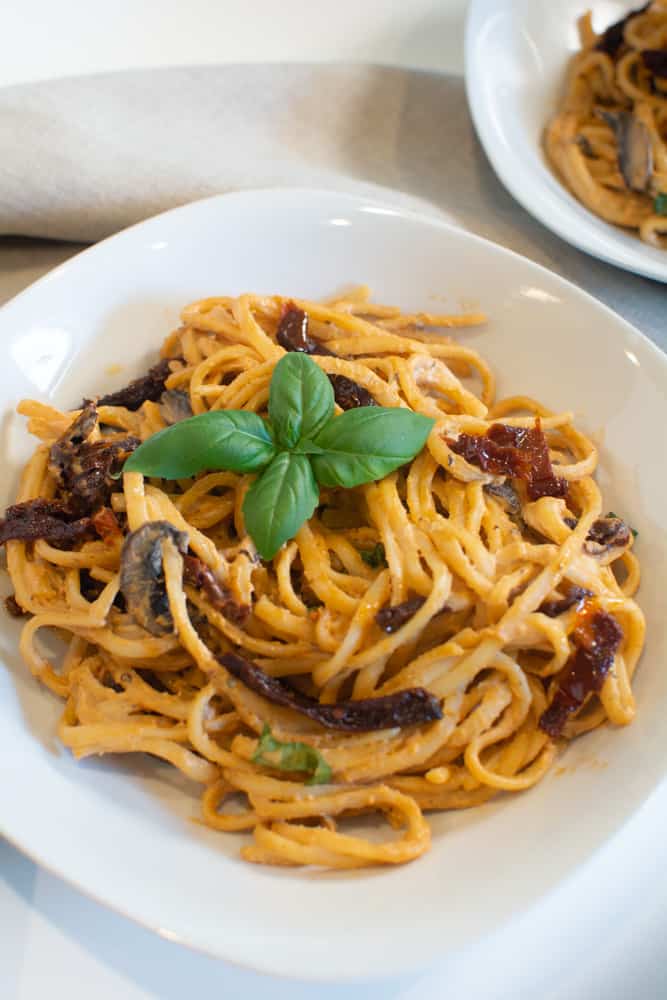 There is still time left waiting for the pasta to finish cooking, so I slice up some mushrooms to saute before adding everything back to the pan.
Question: does anyone else find slicing mushrooms on a wooden chopping board therapeutic? It helps me chill better than a hot bath and a good book. Seriously, if you ever find me in a tizzy just send me a case of mushrooms and a good knife! I know it's weird, but we can still be friends, right?
Once the noodles are done cooking you can combine them with the sauce, mushrooms, and sliced sun-dried tomatoes. Throw in some lemon zest and a handful of fresh basil. Finally, top with your favorite vegan parmesan (I like this recipe) and you are ready for a romantic sitcom worthy evening.
My four-year-old could barely wait for me to take pictures of this creamy pasta with sun-dried tomatoes before she dug in! What about you?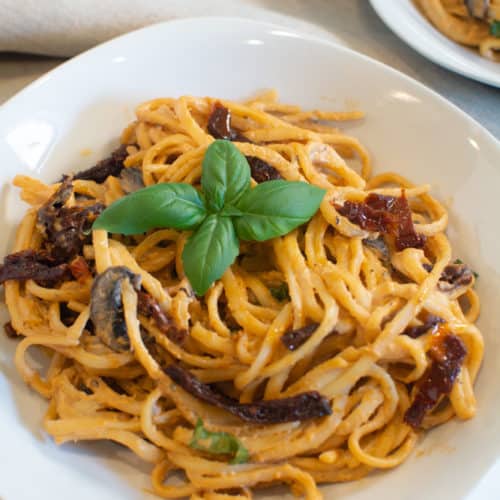 Creamy Pasta with Sun-dried Tomatoes
This pasta is Heaven for all sun-dried tomato lovers! Throw in some basil and lemon and enjoy the rest of your day!
Print
Pin
Rate
Ingredients
1

pkg

whole wheat linguini pasta

1

small

onion

diced

2

cloves

garlic

minced

1

teaspoon

dried oregano

1

pinch

red pepper flakes

optional

1

cup

raw cashews

soaked overnight

1 ½

cup

almond milk

or other plant milk

½

cup

sun-dried tomatoes

divided and sliced

zest and juice from one medium lemon

¾

cup

mushrooms

sliced

¼

cup

vegan parmesan cheese

optional

salt and pepper

to taste

1

handful

fresh basil leaves

optional, loosely torn or cut into ribbons
Instructions
Cook pasta according to package directions. Take off the heat just before they are done cooking

Saute onions and garlic on medium heat until fragrant and just beginning to brown. Season with oregano and red pepper flakes.

Combine onions, garlic, soaked cashews, almond milk, half of the sun-dried tomatoes, and lemon juice in a high-speed blender and blend until smooth and creamy.

Using the same pan that you cooked the onions in, saute the mushrooms until their water has evaporated and they turn a dark reddish-brown.

Add the remaining sun-dried tomatoes to the pan along with the blended sauce.

Add the slightly undercooked pasta to finish cooking in the sauce.

Season with salt and pepper to taste. Don't be shy with the pepper!

Add the basil, lemon zest, and parmesan cheese

Stir to combine and enjoy!