These CHICKPEA LETTUCE WRAPS are a dream come true for me. Lettuce wraps are one of my favorite things to order out. Their flavor is amazing. Plus you have the warmth from the filling, the crunch from the lettuce and the juice that almost always runs down to your elbow as you try to eat it. I HAD to try to create a meatless version. I mean. How could I not?

I like to make my filling pretty SPICY. So if you are not into that sort of thing you can easily tone it down by adding less sriracha. We have these with either romaine lettuce or butter lettuce because they hold the filling so well. My favorite though is to use romaine. It has a crispy, refreshing crunch that cuts into the heat from the filling. A beautiful pairing. You could sub in iceberg lettuce as well.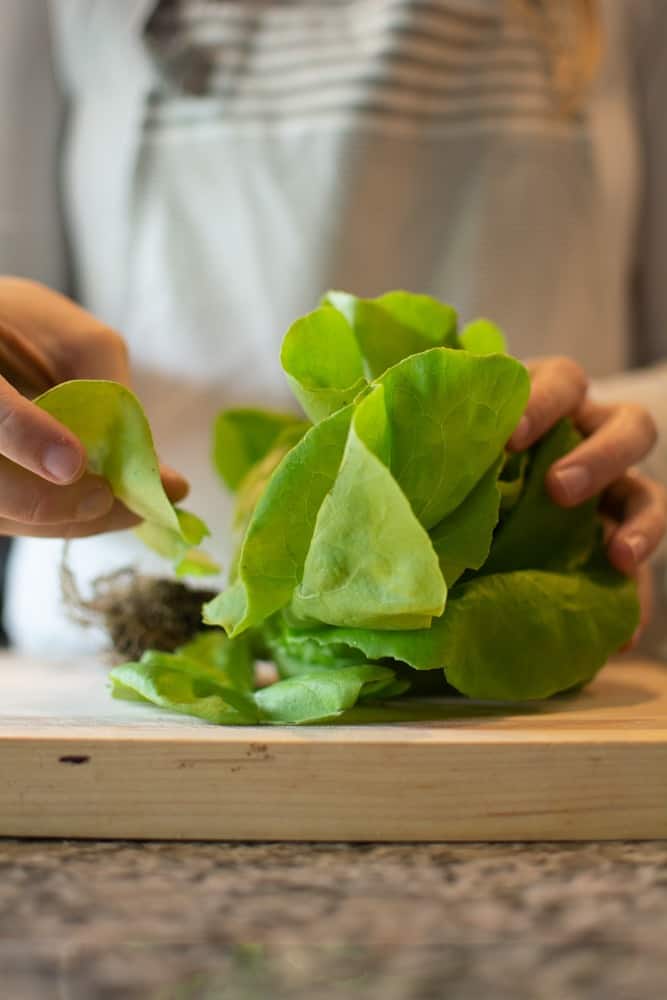 The ingredients aren't too complicated. I use chickpeas and walnuts for the meat part of the filling. You can use canned or home-cooked chickpeas.
The walnuts are also straight forward. However, I think they taste better after they have been soaked and dehydrated. This process takes all the bitterness out of the walnut. I buy my walnuts in bulk and soak them overnight-night and then dehydrate them. This way they are ready to go whenever I want to use some. It seems like a lot of work but it's mostly hands-off. This step is 100% not necessary but trust me when I say it is worth it.

If walnuts aren't your thing, or you don't have them on hand you can easily leave them out. The texture won't be the same but it will still be delicious!
I also like to add water chestnuts, green onions, regular onion, and shredded carrots. I make it without the carrots sometimes and it is still delicious. I like the carrots though because they add flavor and a little more moisture. The hardest part about cutting out meat for me is making up for the loss of moisture in recipes. Beans tend to be on the dry side. So I try to help them out where I can.

To make the chickpea lettuce wraps start by mixing your sauce ingredients together. Set the sauce aside while you prepare the other ingredients.

In a food processor, pulse your onion and garlic into a coarse chop. Dump the mixture into a heated pan and saute on medium heat until fragrant and translucent. You can also chop them with a knife but you are going to use the food processor anyway for the filling. Might as well keep things simple right?
While the onion and garlic are sauteing, shred your carrot in the food processor and add to the pan.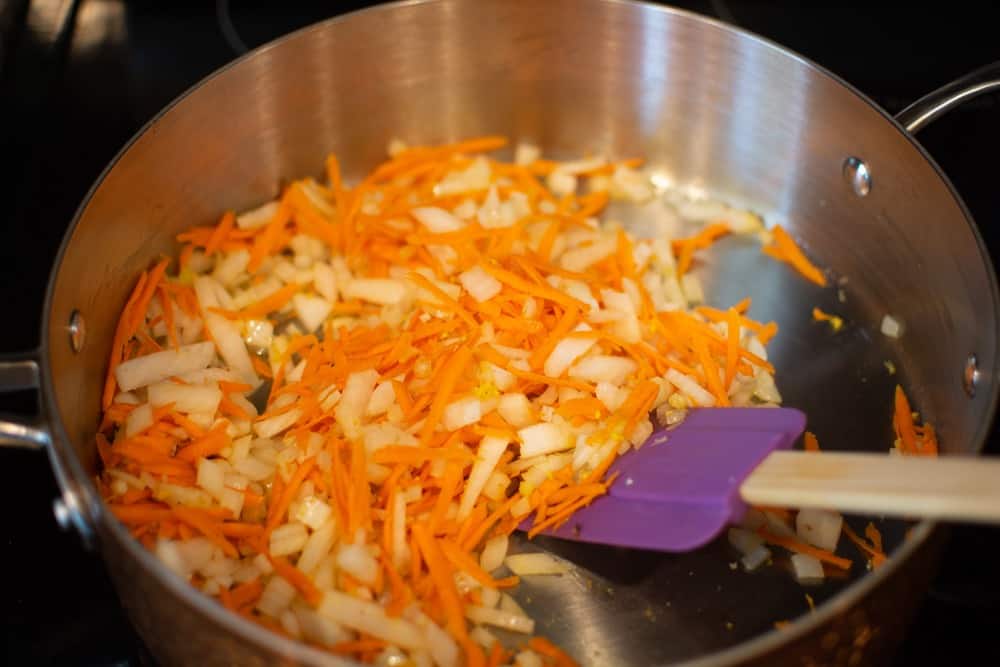 Next, pulse the nuts in the food processor until you reach a coarse, ground meat-like consistency. You can pulse the chickpeas like I did here but it is easy to turn them into mush. You can also keep the chickpeas whole in the final recipe. Or try mashing them roughly with a fork for a more meat like consistency.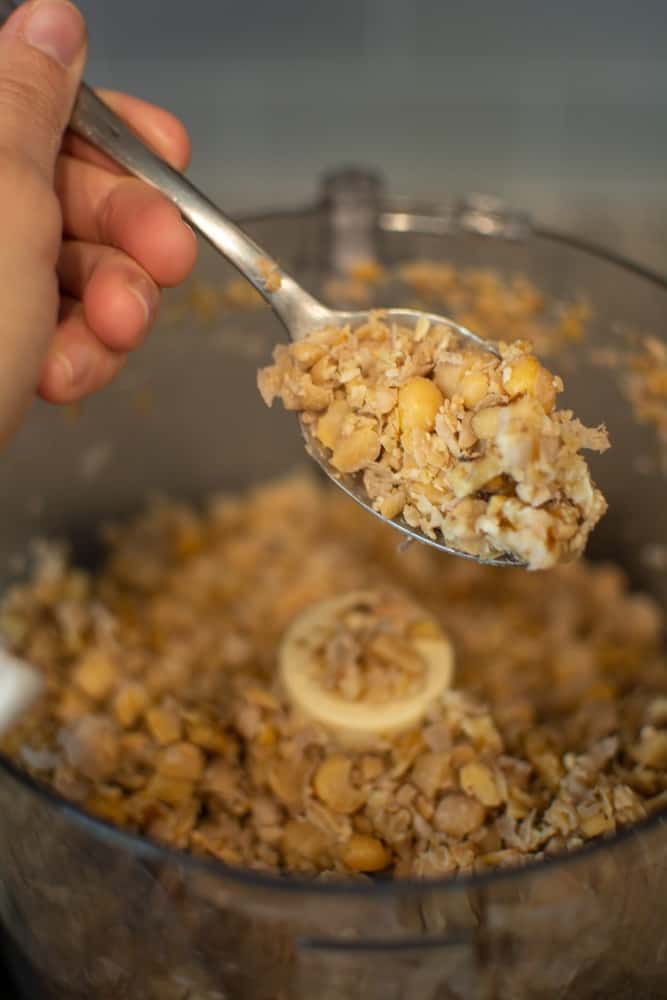 Once your onion, garlic, and carrot mixture is ready, stir two-thirds of your sauce into the pan and warm through.
Then dump in your chickpeas and walnuts. Pulse the water chestnuts in the food processor one or two times, or chop roughly with a knife. You want the pieces to be pretty big or you will lose their crunchiness in the filling. Add the water chestnuts to your filling and you are good to go!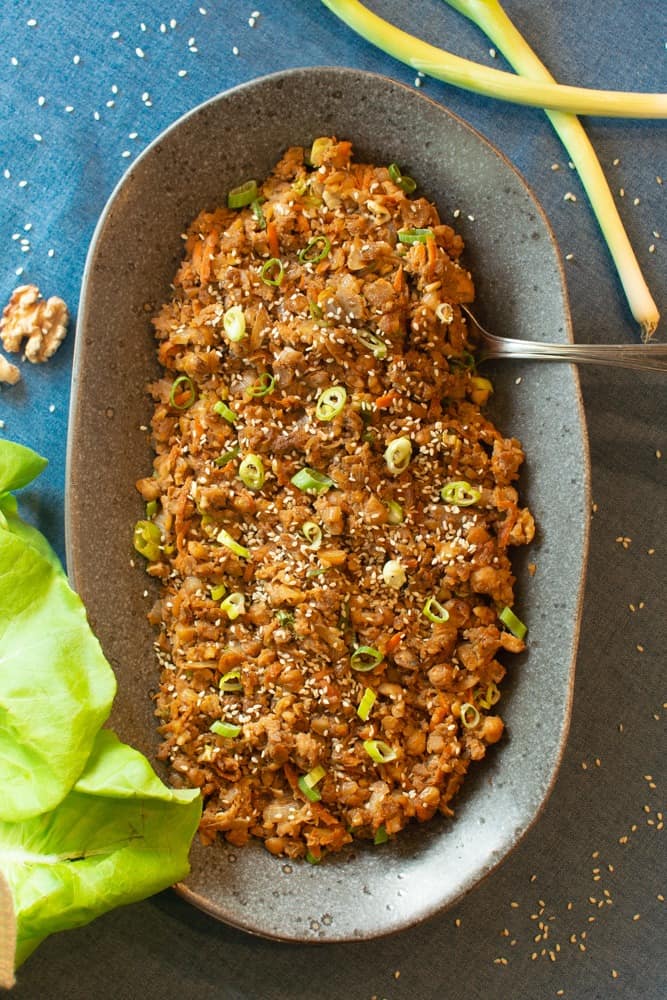 My food processor feels so loved whenever I make this recipe!
Heat your remaining sauce through and serve on the side, along with some chopped green onions, and sesame seeds.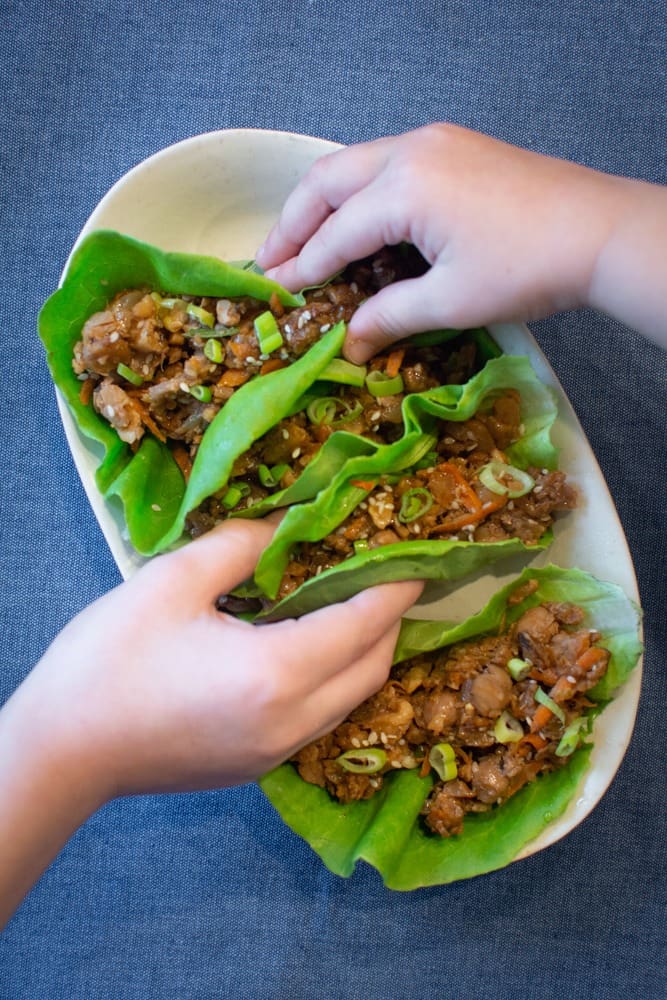 I like to serve these chickpea lettuce wraps with some rice and call it a day! A good day at that.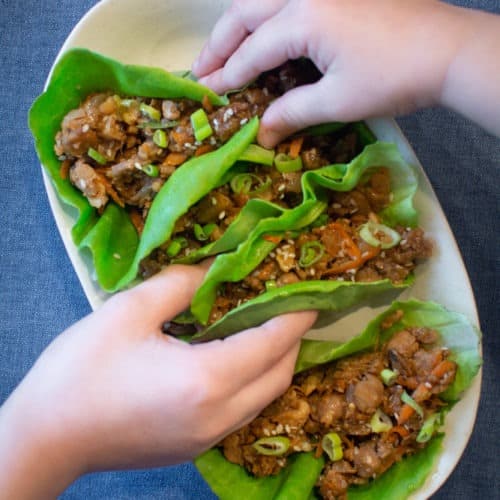 Chickpea Lettuce Wraps
A great meatless substitute for your favorite Asian classic!
Print
Pin
Rate
Ingredients
Filling
1

tbsp

olive oil

3

cloves

garlic

crushed

1

medium

onion

diced

1

carrot

shredded

1

8 oz can water chestnuts

roughly chopped

salt and pepper

to taste

1

can

chickpeas

¼

cup

walnuts
Sauce
6

tablespoon

coconut aminos

see notes

1.5

tablespoon

rice wine vinegar

1.5

tablespoon

fresh ginger

1.5

teaspoon

sriracha

optional

1.5

teaspoon

peanut butter

1.5

tablespoon

coconut sugar

1

teaspoon

sesame oil

1.5

teaspoon

red miso
Other
Lettuce

See notes

2

green onions

sliced, to serve on top

sesame seeds

to serve on top
Instructions
Saute onion and garlic until fragrant.

Add the shredded carrot and saute for a couple minutes longer.

Mix sauce ingredients together and pour two-thirds over the onion and garlic mixture and heat through

Add the chickpeas and nuts to the pan and stir into the onions

Roughly chop the water chestnuts and add to the mixture.

In a separate pan, heat the remaining sauce through to serve on the side.

Serve with the wedges of romaine lettuce.
Notes
I love this recipe with coconut aminos. You can use soy sauce but the ratios will be different as it is much saltier.
I usually serve this with romaine lettuce. You could also use butter lettuce or iceberg lettuce.
You can use a food processor for everything to save on prep time. Don't overprices the beans or water chestnuts. Bigger chunks give the filling the perfect crunchy texture that will get lost if the pieces are too small. I only do one or two pulses in my food processor. 
You can use the beans whole or chop them up for a meat like consistency with the walnuts.