These Blueberry Lemon Muffins are vegan, made with whole wheat flour, and maple syrup, and have no oil. Plus they are delicious! Did I mention they are easy to make?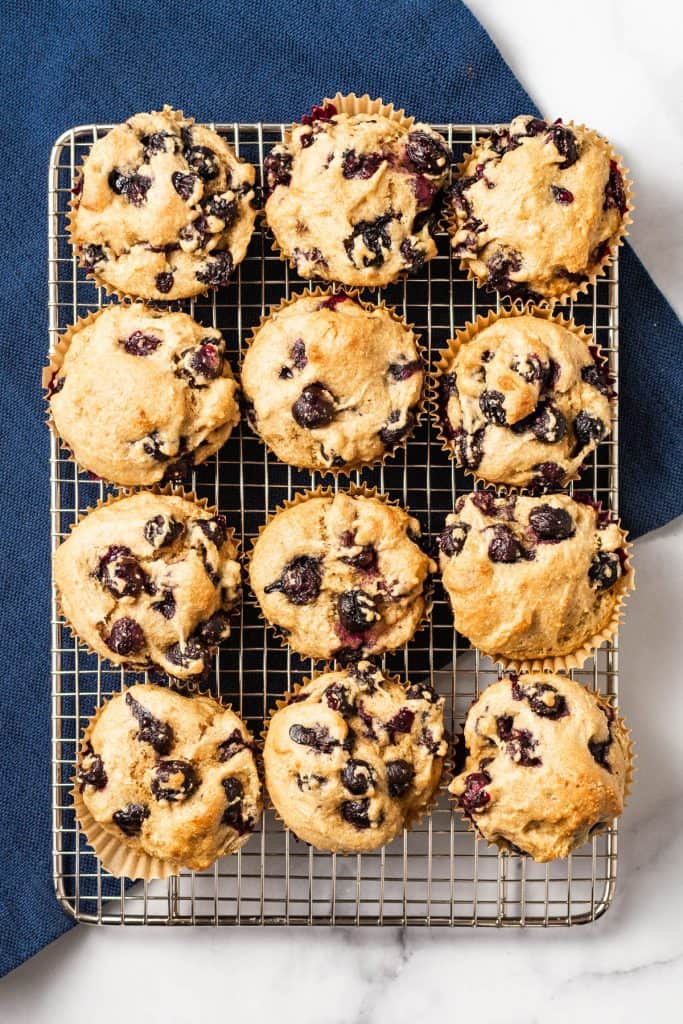 Everyone should have a good blueberry muffin in their back pocket. And if you like to bake without oil, this is a great recipe to have around. For some other great oil-free baking recipes check out this cornbread or these peanut butter and chocolate chip cookies!
Jump to:
Ingredients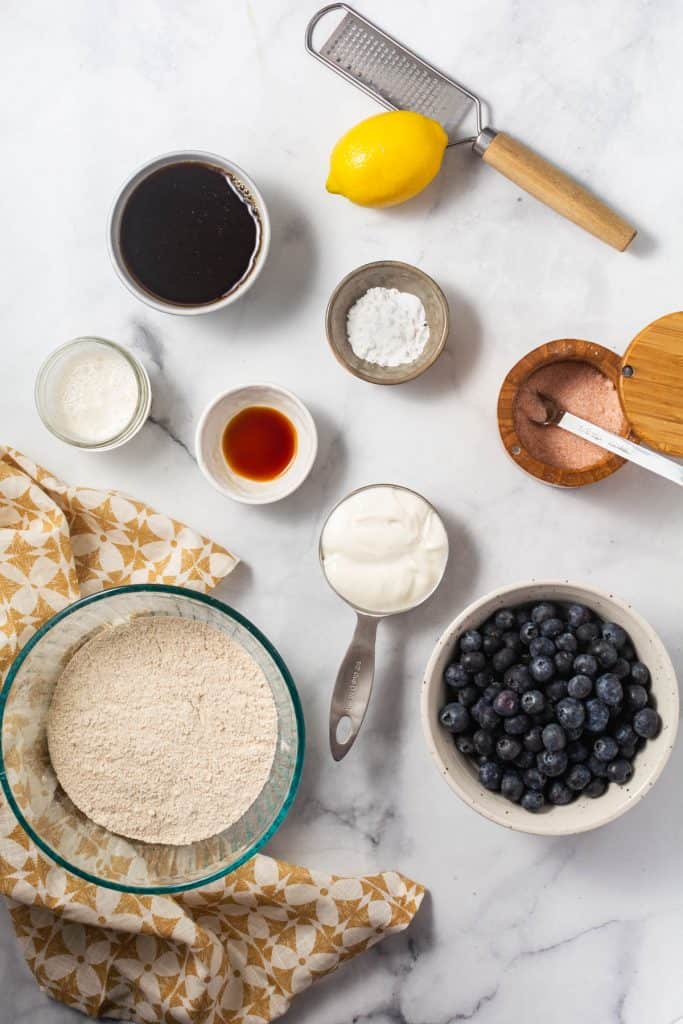 Flour - I use a combination of white whole wheat flour and whole wheat pastry flour because I like the texture. You could also use just whole wheat or all-purpose flour. A gluten-free flour blend should work well but I haven't tried it myself.
Plant-Based Milk - any plant-based milk should be fine. I used almond milk here but I have also used soy milk.
Baking Soda - This recipe mostly relies on baking powder for a good rise, but I also use a bit of baking soda to help tone down the tang from the yogurt. The baking soda is optional but don't skip on the baking powder!
Plant-Based Yogurt - make sure your yogurt is unsweetened and unflavored. Any plant-based yogurt should work but if you use coconut it will affect the flavor of your muffins.
Maple Syrup
Lemon Zest
Salt
Vanilla
Fresh Blueberries
See the recipe card for quantities
Instructions
These muffins are so easy to make! Plus I found a great tip for keeping those sneaky blueberries from sinking to the bottom.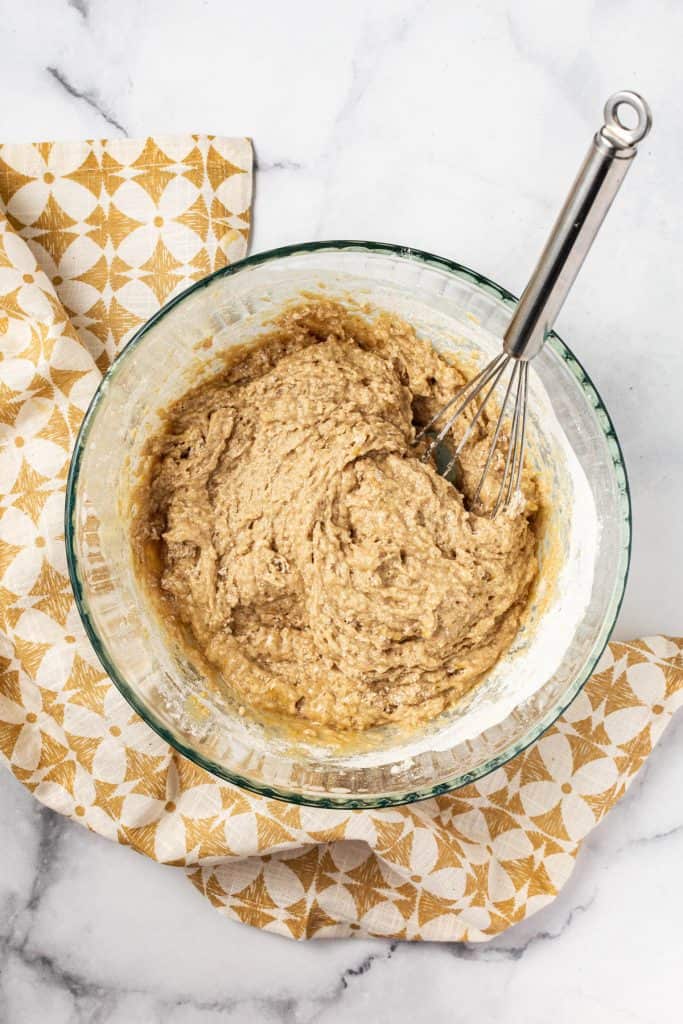 First (after you preheat your oven to 425 of course) you want to mix all of your wet ingredients plus the ground flax in a large mixing bowl. Let this mixture rest for 5 to 10 minutes.
In a separate bowl whisk together the flour, baking powder, baking soda, and salt extremely well.
Combine the dry ingredients with the wet ingredients while being careful not to overmix.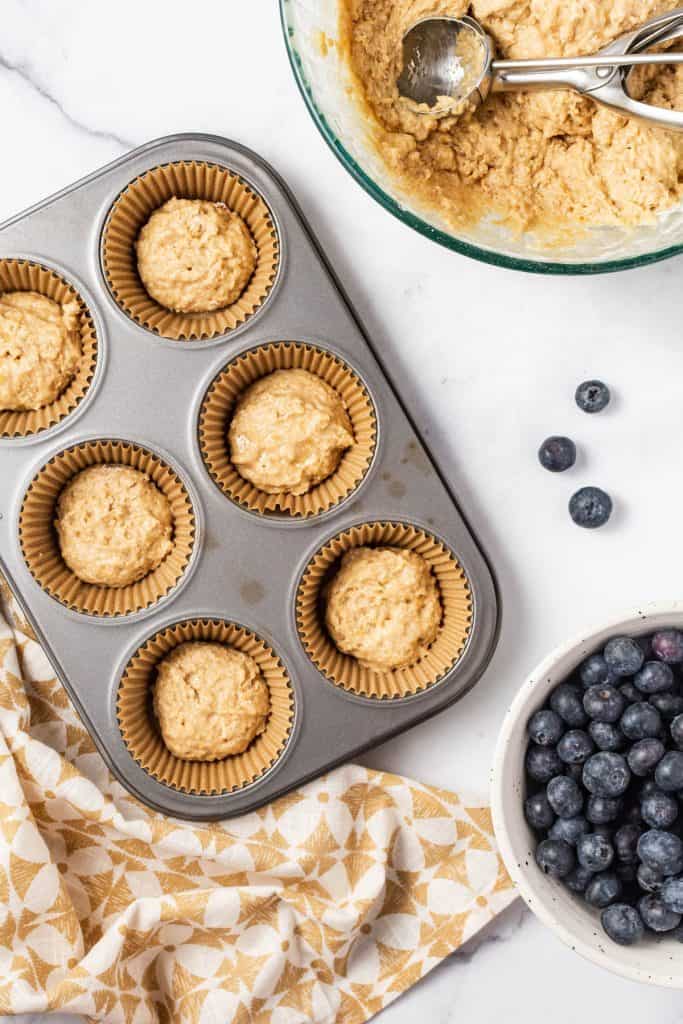 How to keep blueberries from sinking to the bottom of your muffins
I learned this trick from Stella Parks and it works like magic! Before you mix the blueberries into the mixture, you want to put a little batter on the bottom of each muffin liner.
Then you mix your blueberries into the rest of the batter and fill the muffin liners the rest of the way up. You want each muffin liner to be about ¾ full.
There are a few different ways that you can fill your muffin tin. You can use a muffin scoop, spoons, or an ice cream scoop. Any of these will work well.
Trust me. This works way better than coating your blueberries in flour!
TIP–When you fold your blueberries in, you want to do it as gently as possible using a wooden spoon or spatula. This will help make sure your batter doesn't get overmixed.
Trust me. This works way better than coating your blueberries in flour!
Baking
Now it is time to bake! The best way to bake these is using two different temperatures. This gets that beautiful rise without overbaking.
You should have a preheated oven set to 425° F or 220* C. Bake the muffins for 5 minutes, then turn the oven down to 375° F or 190° C and bake for 15 minutes.
Bake until the tops are golden brown. You can check them by inserting a toothpick and seeing if it comes out clean. Or you can lightly touch the top and see if it springs right back.
Cooling
This next step is very important!
When you pull the muffins out of the oven, you do not want to let them cool off in the pan. Wait for 2 to 3 minutes and then take them out of the muffin tin. Then let them finish cooling on the rack.
If you let them cool in the tin you can get soggy bottoms. And who wants soggy bottomed muffins?
Once they are completely cool you can enjoy!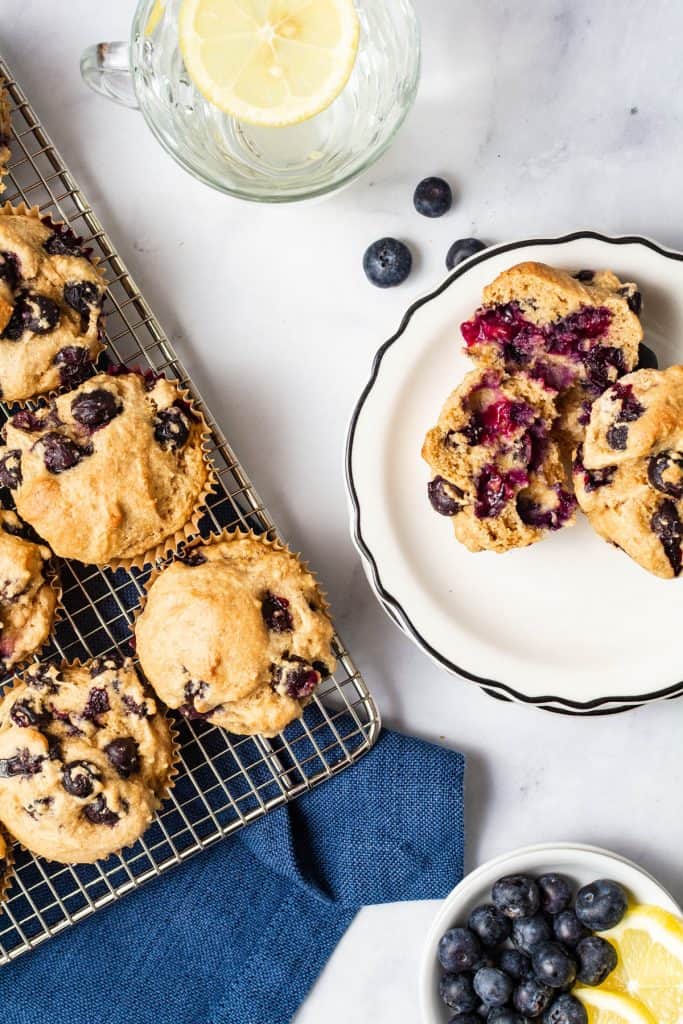 FAQ
Why are my blueberry muffins soggy?

Soggy muffins are a common problem that stems from letting your muffins cool in the pan. To fix this, remove the muffins from the pan within five minutes of taking them out of the oven. Let them finish cooling on a cooling rack.
How long will vegan lemon blueberry muffins last?

It is best to eat these within a day or two of baking. After that, the fruit can start to get moldy. And you don't want to refrigerate them as it could change the texture and dry them out. 

What do I do if my muffins are undercooked?

If you notice that your muffins are undercooked in some parts, you can put them back in the oven for a few minutes.

How do I know when my muffins are done cooking?

There are two ways to know if your muffins are done cooking: You can test them with a toothpick. Or you can touch the top of the muffins. If the top of the muffins springs back after touching it, they are done cooking. Always check one of the middle muffins as the outer muffins can bake faster.
Can I use frozen blueberries?

Yes. However, frozen blueberries will add a ton of unwanted moisture to the batter if you put them in straight from the freezer. If you want to use frozen blueberries, let them thaw and drain for about half an hour and then dry them off with a towel. 

Can I make these without the lemon?

Yes! You can just leave the lemon zest out if you don't want any lemon flavor. You could also try replacing it with a little cinnamon. Yum!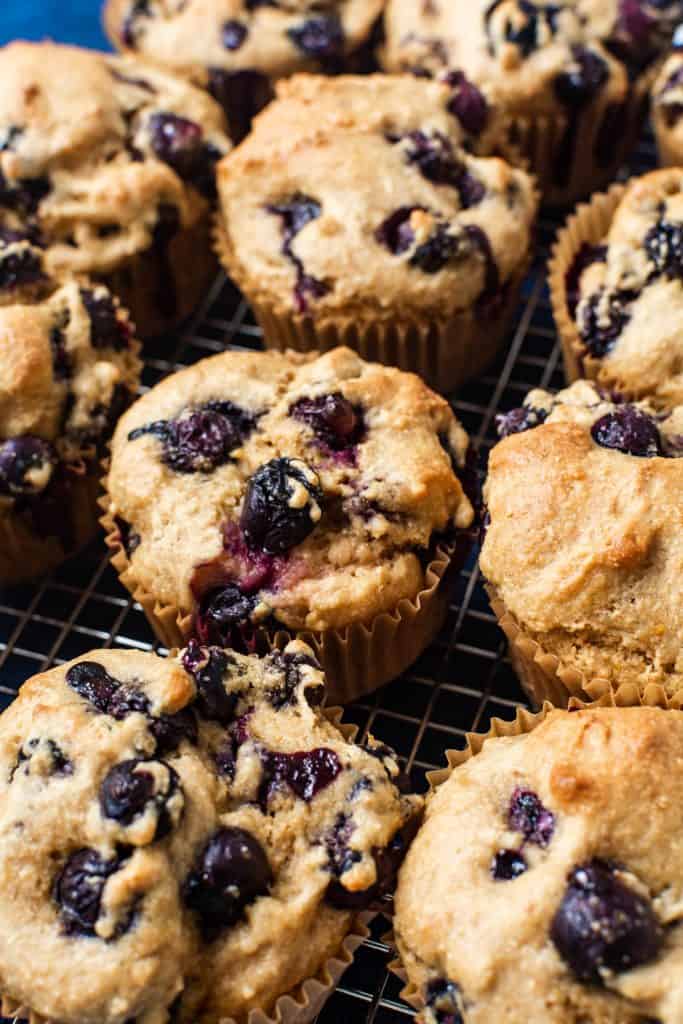 If you have any other questions let me know. I'd love to help!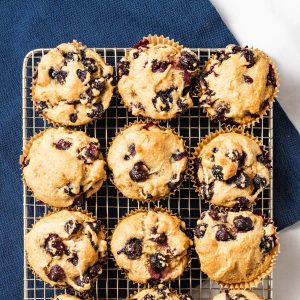 Blueberry Lemon Muffins Vegan
These muffins are oil-free, dairy-free, refined sugar free and delicious!
Print
Pin
Rate
Ingredients
2

tablespoon

ground flax seed

¾

cup

maple syrup

¼

plant-based milk

lemon zest from one lemon

1

teaspoon

vanilla

½

cup

plant-based yogurt

unsweetened, unflavored

1

cup

whole wheat flour

130 grams

1

cup

whole wheat pastry flour

120 grams

½

teaspoon

salt

2

teaspoon

baking powder

⅛

teaspoon

baking soda

¾

cup

blueberries
Instructions
Prepare muffin tin with paper liners.

In a large bowl combine the ground flax seed, maple syrup, milk, yogurt, vanilla, and lemon zest.

In a separate bowl, mix together dry ingredients and stir until well incorporated. (flour, salt, baking powder, and baking soda.)

Gently stir the dry ingredients into the wet ingredients.

Fill your muffin tin liners about ¼ full with the batter.

Mix fresh blueberries into the rest of the batter and gently combine. Be careful not to overmix.

Fill the liner to about ¾ of the way full.

Bake at 425° F for 5 minutes. (220° C)

Turn oven down to 375° F and bake for an additional 15 minutes. (190° C)

Let cool in muffin tin for only 2 to 3 minutes.

Remove from muffin tin and finish cooling on a cooling rack.
Notes
You will know when your muffins are done when the tops are golden brown and you can put a toothpick in and it comes out clean. 
If you want to use frozen blueberries, thaw your berries and drain them for about 30 minutes. Pat them dry with a paper towel and then add them to your batter. 
Nutrition
Serving:
2
muffins
|
Calories:
307
kcal
|
Carbohydrates:
66
g
|
Protein:
7.5
g
|
Fat:
3.5
g
|
Saturated Fat:
1
g
|
Polyunsaturated Fat:
1
g
|
Monounsaturated Fat:
0.5
g
|
Sodium:
719
mg
|
Potassium:
300
mg
|
Fiber:
6.5
g
|
Sugar:
29
g
|
Vitamin A:
39
IU
|
Vitamin C:
6
mg
|
Calcium:
337
mg
|
Iron:
2.5
mg